Mango & strawberry bake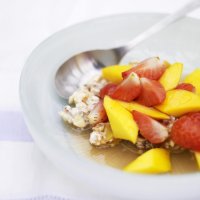 This sweet dessert is a real treat with tropical fruits and fresh strawberries and the bonus is it's ready in 25 minutes
Serves: 2
Prep time: 10 mins

Cook time: 15 mins
What you need:
100g Jordans Tropical Muesli
20g wheatgerm
1 tbsp Demerara sugar
100ml single cream
1 mango
Diced
 150g strawberries
Sliced 
2 tbsp clear honey
What you do:
Mix together the muesli, wheatgerm, sugar and cream in a bowl and leave to soak together for at least one hour.
To put the dish together, preheat the oven to 170 c fan/ 180 c/ Gas mark 5. Spread out a piece of foil on a baking tray, to make a parcel, and spoon the mango and strawberry in the middle. Drizzle over the honey, and seal up the parcel. Bake for 15 minutes until the juices start to run.
Meanwhile, heat up the muesli base over gentle heat in a small pan.
To serve, divide the muesli base between 2 plates, and spoon over the warm fruit. Serve immediately.
This page can be found at: http://secretsauce.co.uk/cakes-desserts/mango-recipes/mango-and-strawberry-bake/
A short link can also be used: http://bit.ly/fuMpzk
Jordans Cereals

The reason
Jordans Cereals
and bars are so good is thanks to the quality of the ingredients - only the finest wholegrain oats are blended with the crispiest toasted wheat flakes, the juiciest fruits and the crunchiest nuts. But it's not just about the taste. The dedicated group of Conservation Grade farmers around Britain are passionate about growing ingredients which also help wildlife to flourish. It's called all-round goodness.
More from Jordans Cereals

Sweet, delicious breakfast muffins will certainly get your morning off to a good start!

A slice of cake for breakfast might strike you as a bit decadent, but as it's got muesli in it, it counts as a breakfast dish!

This is a perfect winter warmer of a recipe. The soft fruit is covered in a crumble topping, served with silky soft cinnamon cream.
Popular in mango recipes

If you add a little lemon juice to condensed milk it will thicken - so it makes it really easy to make mousses and fools - try any fruits that you like.