Strawberry, mango, pistachio & marsala fruit salad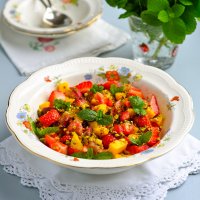 The colours of this fruit salad are really bright and vibrant and will make you feel as if you are on an exotic holiday without leaving home! If you want to serve the same recipe for children then you could use rosewater instead of Marsala, which is a fortified, sweet white wine, a bit like sherry
Preparation: 15 mins
Serves: 4
What you need:
200g Sweet Eve strawberries
150g shelled pistachio nuts
2 ripe mangoes
2 ripe peaches
Caster sugar for sprinkling
A small glass of Marsala, or sherry, or 4 tbsps rosewater.
What you do:
Hull and finely slice the strawberries. Toast the pistachio nuts until slightly browned and releasing their aroma (be careful not to burn the nuts). Finely chop the toasted pistachio nuts.
Peel and finely slice the mango, finely slice the peaches and place into 4 individual serving bowls.
Mix in the strawberry slices and sprinkle a little bit of caster sugar on each serving. Pour a little Marsala, or sherry or rosewater on each portion.
Top each serving with toasted pistachio nuts.
This page can be found at: http://secretsauce.co.uk/cakes-desserts/fruit-desserts/strawberry-mango-pistachio-and-marsala-fruit-salad/
A short link can also be used: http://bit.ly/PiN7JV
Sweet Eve Strawberries

Sweet, juicy and plump, British strawberries are undeniably the taste of a good summer. Sweet Eve is a new variety of British strawberry. Packed with sweetness and flavour Sweet Eve is in season from June until October and it tastes like strawberries used to taste.
More from Sweet Eve Strawberries

Sophie says: 'I love making this as a celebration cake for special occasion - the layers of meringue with the fruit in between look very pretty.'

When it gets a bit wintry nothing beats a great crumble for dessert - it's sweet, crunchy and with a dribble of custard, perfect!

Strawberries, cream and a dash of cinnamon - the perfect pudding combination.
Popular in fruit desserts

Fancy a really exotic dessert? Try this fruity delight from Guyana!

Sweet and delicious, the Jus-Rol pastry cases make these strawberry and cream desserts really quick an easy.

Sweet and tangy these zesty lemon treats are really easy to make - just use Jus-Rol pastry cases