Guyana fruit salad - Guyana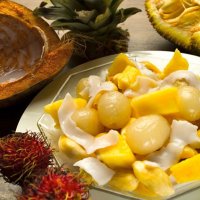 This June for foodie explorers, unearthed will be attempting a Guinness World Record to create the world's longest tasting menu, which will consist of 193 courses - one from each country in the world. Here are some for you to enjoy.
What you need:
Mangosteen
Rambutan
Jack fruit
Durian
Young coconut
What you do:
Wash and prepare fruit accordingly
This page can be found at: http://secretsauce.co.uk/cakes-desserts/fruit-desserts/guyana-fruit-salad-guyana/
A short link can also be used: http://bit.ly/13iOfWI
Unearthed

Unearthed is a fast-growing food brand, with an easy to prepare and share range of tapas and snacking products from across the Mediterranean and further afield.
More from Unearthed

If you love food from all over the world, try this unusual salad from Myanmar!

A delicious, exotic dish made all the more delicious with a sprinkling of oregano before serving.

A delicious spicy casserole straight from Portugal
Popular in fruit desserts

Sweet and delicious, the Jus-Rol pastry cases make these strawberry and cream desserts really quick an easy.

Sweet and tangy these zesty lemon treats are really easy to make - just use Jus-Rol pastry cases
The colours of this fruit salad are really bright and vibrant and will make you feel as if you are on an exotic holiday without leaving home!