Spiced blueberry & myrtle sauce for ice cream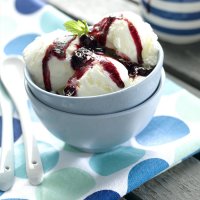 This blueberry ice cream sauce recipe is one of 12 mouth-watering, monthly recipes (this one's August), using seasonal and locally-sourced produce
Serves: 4
Preparation time: 5 minutes
Cooking time: 20 minutes + 1 hour cooling time
Can be vegan.
What you need:
200g blueberries
5 - 7 wild myrtle leaves (available from some supermarkets)
2 tbs sugar (or to taste)
pinch cinnamon
To serve:
Vanilla ice cream* (use vegan ice cream if desired)
What you do:
Put blueberries in a small saucepan with just enough water to come half way up the fruit.
Tie myrtle leaves in a piece of muslin to make a little bag like a 'bouquet garni'- otherwise you'll never find them again! Add the bag to the fruit, pushing well down into the fruit, together with a pinch of cinnamon. Bring to the boil, cover and then cook very slowly until the fruit is tender - about 15 minutes. Cool for at least 1 hour to let the flavours infuse.
Remove the bag of myrtle leaves and discard. Add sugar to the fruit to taste. Serve warm or cold over ice cream as it is, or sieve to make a smooth puree.
Alternative:
If you cannot get myrtle leaves, try using a large bay leaf instead (remember to remove before eating). You won't need to put this in a muslin bag as it'll be easy to find!
Works well with other blackberries as well.
Recipe created by the Cordon Vert cookery school
This page can be found at: http://secretsauce.co.uk/cakes-desserts/dessert-recipes/spiced-blueberry-myrtle-sauce-for-ice-cream/
A short link can also be used: http://bit.ly/eBZK3c
Vegetarian Society

The Vegetarian Society is a registered charity committed to promoting the health, environmental and welfare benefits of a vegetarian diet.
More from Vegetarian Society

These Halloween snails look deliciously slimy. Who's going to be brave enough to take the first bite?

A fantastic ale and mushroom pie recipe perfect to warm you up when it's chilly outside and you want something tasty and filling

Need some get up and go in the morning? This smoothie is just what you need. Ready, steady...
Popular in dessert recipes

Imagine the look on your guests' faces when they see these delicious desserts, and they're really easy to make too!

Sticky toffee sauce is the final decadent touch to this sweet peachy dessert