Coffee-toffee cupcakes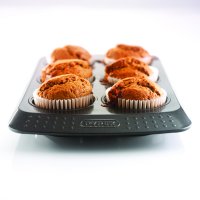 If you've got a sweet tooth and also love coffee-flavoured desserts, these cupcakes are going to be right up your street!
What you need:
150g of firmly packed muscovado sugar
2 tablespoons of instant coffee
300g of self raising flour
2 large eggs
125ml Milk
125g Salted Butter
150 g Mini Fudge Chunks
Silverspoon Cakecraft Chocolate Flavoured Strands
1 Tin of Carnation Caramel or 400g of other Dulce de Leche
What you do:
Pre-heat oven to 180C. Line 2 x Pyrex Non stick Bakeware Muffin tins with butter and then place paper cases into each of them
Fit the K beater to a Kenwood Chef and beat sugar and butter until light and fluffy. Mix coffee with 3 tablespoons of water in a Pyrex jug, then beat the eggs into that mixture, one at a time. Add mixture slowly to egg and sugar, at low speed until fully incorporated.
Slowly add flour and milk and mix until everything is well blended in. Pour in the fudge pieces and stir with a wooden spoon.
Divide mixture between cases and bake for approximately 20 minutes. Check the inside is cooked with a skewer, if not, cover with Bacofoil and bake for an extra 5 minutes; do not allow top to burn.
Stand cakes in for 10 minutes in pan before turning out with paper cases still in place onto a wire rack.
Let it cool completely. Top each with a portion of the Caramel and sprinkle with chocolate flakes.
This page can be found at: http://secretsauce.co.uk/cakes-desserts/cup-cake-recipes/coffee-toffee-cupcakes/
A short link can also be used: http://bit.ly/ih12kq
National Baking Week 2009
National Baking Week
takes place from 19-25 October and is a celebration of baking. TV chef Rosemary Shrager is supporting the new campaign for the second year running to revive and revitalise enthusiasm for home baking and get Britain baking.
More from National Baking Week 2009

This cake doesn't really need any further explanation on top of its name - it is exactly what it's called, an easy tea time cake!

If you're looking for a dish to impress your friends, then this one's bound to be a winner - it's seafood at its best
Popular in cup cake recipes

Delicious cupcakes decorated with vanilla buttercream and beautiful decorations

Feed the nation's love for cupcakes with a freshly baked batch of lemon and honey cupcakes

A gorgeous cupcake perfect for summer - light and fruity!