Raspberry & white chocolate chunk cookies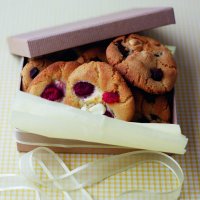 This could arguably be the best ever cookie dough you will ever make - the secret is adding the condensed milk which gives you the most wonderful texture - crisp outside and soft centred.
Makes: About 20-30 cookies (depends on the size)
Preparation time: 10 minutes
Cooking time: 15-18 minutes
What you need:
225g (8oz) unsalted butter, softened
225g (8oz) caster sugar
170g tube Carnation Condensed Milk
350g (12oz) self-raising flour
150g (5½oz) white chocolate, chopped
175g punnet raspberries
What you do:
Preheat the oven to 180°C, 350°F, Gas Mark 4.
In a large bowl, cream the butter and sugar, until pale and then stir in the condensed milk. Sift in the flour and then work into a soft dough with your hands. Mix in the chocolate.
Take a small handful of dough and flatten with your fingers. Place 2-3 raspberries into the centre of the cookie and fold over the sides of the dough to encase the raspberries.
Repeat with the remaining dough.
Place onto parchment lined baking trays, spacing well apart and bake for about 15-18 minutes or until golden brown at the edges, but still a little soft.
Leave to cool slightly and set before transferring to a cooling rack.
The dough without the raspberries will keep in the fridge for 2-3 days or for about 1 month in the freezer - freeze in small slightly flattened chunks and bake as required!
Handy tips:
Try these other combinations:
Roasted hazelnuts and dark chocolate
3tbsp cocoa mixed into plain dough with white and dark chocolate chunks added at the end.
Dried cranberries and macadamia nuts
Ripple in some Carnation Caramel and add some chopped stem ginger
Orange zest, raisins and cinnamon
This page can be found at: http://secretsauce.co.uk/cakes-desserts/cookie-recipes/raspberry-and-white-chocolate-chunk-cookies/
A short link can also be used: http://bit.ly/fwrH2W
Nestlé Carnation

Do you long to make beautiful, delicious puddings to impress your friends and family but lack the time and confidence? Well, help is at hand! The
Carnation
range of products is the short and deliciously sweet route to dessert heaven…
More from Nestlé Carnation

This quick-setting light textured cheesecake is the perfect answer to an alternative to the richness of Christmas pudding...

Creamy and delicious, these rum and raisin brulees are the creme de la creme of desserts - perfect as an alternative for Christmas pudding!

These mini desserts are perfect to serve up for a dinner party - what could be better than individual version of banoffee pies?
Popular in cookie recipes

If you think the title of this recipe is a bit boastful, you'll understand why it's a fair name when you've tasted the cookies!

They're pink and chocolatey - what more could you ask for in a cookie treat?!

Delicious cookies with a hint of honey