Hazelnut chocolate truffles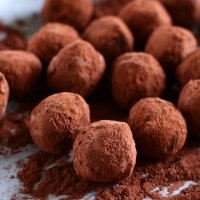 Easy to make and even easier to devour, these velvety smooth chocolate truffles, made with new Baileys Hazelnut Flavour to give a luxuriously nutty taste, are just the thing to share with friends.
What you need:
100ml Baileys Hazelnut Flavour
150g unsalted butter
270g 66% dark chocolate
150ml double cream
For the dip:
250g of dark chocolate (min 66% cocoa)
250g cocoa powder
What you do:
Break the chocolate into small lumps. Fill a saucepan with water, place a heatproof bowl inside (large enough so it rests on the rim of the pan) and bring it to a simmer
Put the chocolate and butter into the heatproof bowl and melt them both, slowly. Do not stir, as this can cause lumps
When the chocolate and butter are fully melted, take the saucepan off the heat and carefully remove the bowl. Whisk in the double cream and Baileys Hazelnut
Leave to set in the fridge for 2 hours
Using a melon-baller, start scooping out the truffles - they should form the shape of a ball
Place truffles on a plate and leave to cool down in the fridge for half an hour
When you're ready to serve, melt a further 250g of 66% chocolate in the same way as before, dip each truffle into the melted chocolate and then roll in cocoa powder.
This page can be found at: http://secretsauce.co.uk/cakes-desserts/chocolate-recipes/hazelnut-chocolate-truffles/
A short link can also be used: http://bit.ly/hanG1d
Skandi Candle
Pure soy wax candles in Flack Fig & Vetiver or Lemon fragrances - perfect for any dinner party or romantic night in.
Baileys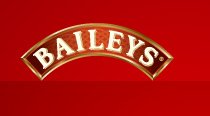 Baileys is a perfect marriage of fresh, premium quality Irish dairy cream, finest spirits, Irish whiskey and a proprietary recipe of chocolate flavours.
Popular in chocolate recipes

Lovely chocolatey gooey brownies - serve them on their own with cups of tea, or with dollops of ice cream to make a delicious dessert

Fun to make and to eat, so eat it while you make it!

This is an easy and luxurious breakfast option which can be made ahead and kept in an airtight container for up to two weeks.