Naughty chocolate mousse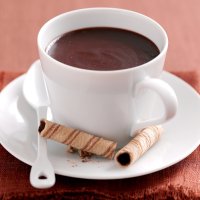 It may be naughty, but it's very very nice indeed and chocolate's also an aphrodisiac so why not make one large one and grab two spoons
Preparation time: 5 minutes
Cooking time: 10 minutes
Calories per portion: 595 Kcal
Fat per portion: 51g of which saturated 29g
Serves: 1
Suitable for vegetarians
What you need:
Dark chocolate 40g (1½oz), chopped
Double cream 5 tbsp
Very strong black coffee 1tbsp
Soft light brown sugar 1 tsp or to taste
Chocolate-filled wafers to serve, optional
What you do:
Slowly melt the chocolate in a heatproof bowl set over a pan of gently simmering water. Remove from the heat and stir with the double cream, coffee and sugar to taste.
Pour into a coffee cup and chill for 20 minutes or until the chocolate mixture has a mousse texture. Serve with chocolate-filled wafers.
Handy cook's tip
If you don't like the taste of coffee, just leave it out of the method. The result will be even more chocolatey.
Handy shopper's tip
Check the cocoa content (it should be about 70 per cent) and make sure that the only fat it contains is cocoa butter.
This page can be found at: http://secretsauce.co.uk/cakes-desserts/chocolate-recipes/naughty-chocolate-mousse/
A short link can also be used: http://bit.ly/hrqH8M
Dairy Diary

The new Clever Cooking for One or Two cookbook is priced at £9.50 (plus £2P&P). To order a copy or for further information call 0845 0948 128, speak to your local milkman or visit Dairy Diary
More from Dairy Diary

This is a classic British dish that's like a giant sausage roll. Serve with greens and mustard for a traditional dinner for two

While you're getting this together, why not double up on the ingredients and freeze a lovely chicken and leek pie for another time?

When it comes to cakes, very little beats a moist, soft, light, fruity muffin and these raspberry versions are no exception
Popular in chocolate recipes

Lovely chocolatey gooey brownies - serve them on their own with cups of tea, or with dollops of ice cream to make a delicious dessert

Easy to make and even easier to devour, these velvety smooth chocolate truffles are just the thing to share with friends.

This is an easy and luxurious breakfast option which can be made ahead and kept in an airtight container for up to two weeks.