Coconut chocolate bars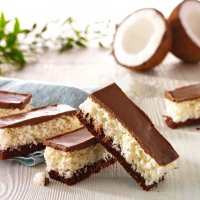 He doesn't want socks.... What Dad really wants for Father's Day are these moreish bars!

Preparation: 30 mins
Cooking: 40 mins
Serves: 14

What you need:

For the base:

100g (3 1/2 oz) lightly salted butter, softened
50g (2oz) caster sugar
115g (4oz) plain flour
15g (1/2oz) cocoa powder

For the topping:

2 sachets Dr. Oetker Egg White Powder
100g (3 1/2 oz) caster sugar
150g (5oz) unsweetened desiccated coconut
1 tsp Dr. Oetker Madagascan Vanilla Extract with Seeds
150g Dr. Oetker Fine Cooks' Milk Chocolate

What you do:
Preheat the oven to 180°C (160°C Fan, Gas Mark 4). Grease and line a 20cm (8 inch) square cake tin with baking parchment.
Put the butter in a bowl and whisk in the sugar until pale and creamy. Sift the flour and cocoa on top and mix well to make a short, crumbly dough.
Press the mixture evenly into the tin to cover the base, using the back of spoon. Prick all over with a fork and bake for 15 minutes then set aside. Reduce the oven temperature to 140°C (120°C Fan, Gas Mark 1).
Make up the Egg White Powder as directed on the pack, and whisk until stiff. Gradually whisk in the sugar to make a glossy meringue. Gently fold in the coconut and Vanilla Extract.
Pile the coconut meringue on top of the chocolate base and smooth the top. Bake for about 25 minutes until lightly golden and crusty on top. Leave to cool in the tin.
Break the Milk Chocolate into pieces and place in a heatproof bowl. Put the bowl over a saucepan of barely simmering water and leave to melt. Remove from the water.
Scrape the melted Chocolate out of the bowl using a spatula on to the coconut. Spread the Chocolate to the edge of the tin and tap the tin gently on the work surface to smooth the Chocolate. Leave to cool.
Just before the Chocolate sets hard, gently score the top using a knife to make 14 bars - this will make the slices easier to cut up when completely cold.
To serve, carefully cut right through the scored Chocolate and lift out the slices to serve.
Cook's tip:
For a richer Chocolate flavour, use Dr. Oetker Dark or 72% Extra Dark Fine Cooks' Chocolate on top instead of the Milk variety.
This page can be found at: http://secretsauce.co.uk/cakes-desserts/chocolate-recipes/coconut-chocolate-bars/
A short link can also be used: http://bit.ly/1kP2aeo
Dr. Oetker

Trust, sustainability and credibility are extremely important factors in the Dr. Oetker family business. Established over 100 years ago in Germany, the business has developed with these values at its core and now enjoys a reputation as one of the most trusted food brands internationally.
More from Dr. Oetker

Delicious cupcakes decorated with vanilla buttercream and beautiful decorations

The ultimate colourful bite-size dessert - great for kids' parties or baking with the children!

Delicious cakes on a stick - these make a refreshing change to a bunch of flowers or a great centrepiece for a party.
Popular in chocolate recipes

Lovely chocolatey gooey brownies - serve them on their own with cups of tea, or with dollops of ice cream to make a delicious dessert

Easy to make and even easier to devour, these velvety smooth chocolate truffles are just the thing to share with friends.

This is an easy and luxurious breakfast option which can be made ahead and kept in an airtight container for up to two weeks.