Strawberries & vanilla cheesecake, with a warm strawberry compote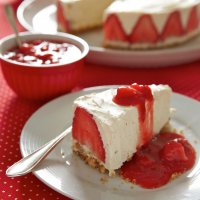 A warm, sweet, Viva strawberry compote is the perfect match for this creamy vanilla cheesecake recipe.
Preparation: 20 mins
Serves: 1
What you need:
200g digestive biscuits crushed
100g melted butter
400g cream cheese
100g icing sugar
500g double cream whipped
1 vanilla pod split
300g Viva Strawberries, halved
For the compote
100g Viva Strawberries chopped
25g sugar
What you do:
Line a 9' springform cake tin with greaseproof paper. Mix the biscuits and melted butter together, and pat into the base of the cake tin. Place in the fridge to set.
Beat the cream cheese with the icing sugar then fold in the whipped cream and the seeds from the vanilla pod.
To construct the cheesecake, spread a spoonful of the cream cheese on the base, and then place the strawberries all around the sides, standing up with the cut side facing out. Use the cream cheese on the base to stand them in so they are stable. Then fill in with the rest of the cream cheese mix, and level off the top. Place in the fridge to set.
Meanwhile make your compote. Put the chopped strawberries and sugar in a pan over a medium heat. Stir constantly until the sugar has dissolved and the strawberries have begun to break down.
To serve, carefully remove the cake tin, and peel off the paper. Cut into slices and serve with the warm compote.
This page can be found at: http://secretsauce.co.uk/cakes-desserts/cheesecake-recipes/strawberries-and-vanilla-cheesecake/
A short link can also be used: http://bit.ly/1edKv0O
Viva Strawberry
More from Viva Strawberry

Macaroons are the perfect dessert to follow a romantic dinner - the perfect treat!

Viva strawberries and chocolate are a match made in heaven and make a delicious treat and a healthier alternative to a bar of chocolate.

Making delicious homemade ice-cream doesn't have to be difficult thanks to this easy strawberry ice-cream
Popular in cheesecake recipes

This strawberry cheesecake makes your mouth water just at the sight of it - so it's not too much of a stretch to imagine how much your tastebuds will like this too!

A delicious minty cheesecake perfect for a dinner party or a tasty treat!

These no-bake cheesecakes are made even easier because the melted white chocolate provides all the sweetness for the cream cheese so no need for extra sugar.