Tea loaf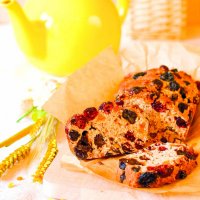 This classic tea loaf is really tasty, moist and so easy to make. Best served sliced and buttered with a cup of Typhoo tea.
Preparation: 20 mins
Cooking: 90 mins
What you need:
350g mixed fruit
200g soft brown sugar
270g self raising fl our
3/4 pint freshly made Typhoo tea
2 medium eggs
What you do:
Make the tea and pour over the fruit and sugar. Leave to soak overnight (or longer if you like a stronger tea flavour).
After the fruit and sugar has soaked in the tea, mix the fl our and beaten eggs with the fruit and sugar.
Cook in a greased 2lb loaf tin in a pre-heated oven at 150°C (300°F, Gas Mark 2) for 1.5 hours. Cool on a wire rack and serve sliced with butter.
Help Typhoo Tea raise valuable funds for the English Federation of Disability Sport (EFDS) by holding your very own Tea & Toast Morning for friends and family. Visit www.teaandtoastmorning.co.uk for further details. The EFDS works to make sport more accessible for disabled people across the UK.
This page can be found at: http://secretsauce.co.uk/cakes-desserts/cake-recipes/tea-loaf/
A short link can also be used: http://bit.ly/fok60e
Skandi Candle
Pure soy wax candles in Flack Fig & Vetiver or Lemon fragrances - perfect for any dinner party or romantic night in.
Typhoo Tea

Typhoo Tea Limited has a long and rich heritage, stretching back to 1903. Today, Typhoo strives to be a good honest tea brand and is a supporter of the English Federation of Disability Sport which works to make sport accessible for disabled people. By simply buying a pack of Typhoo Tea, money will be donated to the EFDS, the perfect excuse for a cuppa!
Popular in cake recipes

This recipe just makes my mouth water! Smooth, sweet buttercream with tempting, moist chocolate cake. Don't try and resist!

Classic lemon drizzle cake with a twist! The elderflower cordial adds an extra sweet flavour to this delicious cake. Try it and see!

For a surprising treat, the tomato ketchup cake is sure to tantalise your tastebuds!