Molten chocolate cupcakes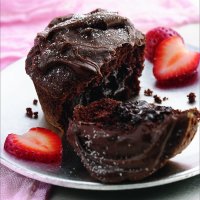 A veritable volcano of oozing chocolate excitement - perfect for parties and really easy if you use Betty's Devil's Food Cake Mix
What you need:
500g box Betty Crocker Devils Food Cake Mix
100ml whipping cream
100g/3½oz dark plain chocolate
70ml vegetable oil
3 medium eggs
450g Betty Crocker Rich and Creamy Chocolate Fudge Icing
Icing sugar
What you do:
Put the cream into a small pan, and heat gently to simmering point. Remove from the heat and break the chocolate into the pan. When the chocolate has melted, stir until smooth. Cool then refrigerate about 1 hour, stirring occasionally until the mixture is thick.
Heat the oven 180C/160Cfan/350F/gas 4. Place muffin paper cases into 1 or two muffin tins. In a large bowl beat the cake mix with the oil, eggs and 250ml water on low speed for 30 seconds, then on medium speed for 2 minutes.
Spoon the cake mixture into the paper cases to fill by 2/3rds. Add a rounded teaspoon of the cold chocolate mixture to the middle of each cupcake.
Bake 15-20 minutes or until the top springs back when lightly touched. Cool 2 minutes before transferring to a rack to cool. Spread with frosting and just before serving, dust with a little icing sugar.
Handy cook's tip
Serve with a few halved strawberries if liked. If you only have one 12 hole muffin tin, cover and refrigerate the rest of the cake mix while baking the first batch.
This page can be found at: http://secretsauce.co.uk/cakes-desserts/cake-recipes/molten-chocolate-cupcakes/
A short link can also be used: http://bit.ly/eItzV4
Skandi Candle
Pure soy wax candles in Flack Fig & Vetiver or Lemon fragrances - perfect for any dinner party or romantic night in.
Betty Crocker

Baking together is a great family activity which allows you and the kids to produce something delicious that everyone will enjoy. Not only will the kids willingly sign up for a baking session, but you get the pleasure of seeing them developing new skills in the kitchen. The new Betty Crocker website is about providing lots of ideas for shared family time.
Popular in cake recipes

This recipe just makes my mouth water! Smooth, sweet buttercream with tempting, moist chocolate cake. Don't try and resist!

Classic lemon drizzle cake with a twist! The elderflower cordial adds an extra sweet flavour to this delicious cake. Try it and see!

For a surprising treat, the tomato ketchup cake is sure to tantalise your tastebuds!