Flourless chocolate cake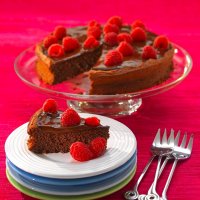 A fabulous chocolate cake, light and luxurious, this is best eaten when just cooled. It will keep a day if you can resist eating it all! Scatter over fresh raspberries if wished and serve with extra Oatly Organic Alternative to Cream.
Preparation: 15 mins
Cooking: 30 mins
Serves: 8
What you need:
150g plain chocolate, 70%
100g unsalted butter
5 tbsp Oatly Organic Alternative to Cream
3 large eggs, separated
100g caster sugar
100g ground almonds
Glaze:
50g plain chocolate, 70%
100ml Oatly Organic Alternative to Cream
What you do:
Preheat the oven to 180°C/160°C fan/gas4. Grease a 20cm spring from cake tin and line the base with baking paper.
Break the chocolate into a large bowl, add the butter and set over a pan of simmering water. Allow to melt, remove from the heat and stir until smooth.
In another bowl, whisk the egg yolks, sugar and Oatly cream until light and creamy. Fold into the chocolate with the ground almonds. Finally whisk the egg whites until stiff then fold into the mixture.
Turn into the cake tin, gently level than bake for 30 minutes. Remove from the oven and allow to cool for 10 minutes before removing the side.
To make the glaze, gently heat he chocolate and Oatly cream in a small pan until
the chocolate has just melted. Stir until smooth then allow to cool for 20-30 minutes.
Pour over the cake and spread evenly, set aside to just set before serving.
Cook's tip:
Nutritional information per portion:
434 Cals
9.2g Protein
33gFat of which 14.3g saturated fat
24.1g Carbohydrate of which 21g sugar
3.9g Fibre
0 Salt
This page can be found at: http://secretsauce.co.uk/cakes-desserts/cake-recipes/flourless-chocolate-cake/
A short link can also be used: http://bit.ly/RirXhF
Oatly

Oatly oat drinks are a tasty, refreshing drink on their own and also make a great low-fat addition to a fruit smoothie. And Oatly is heat-stable, so it is also ideal for use in cooking and baking instead of dairy milk or cream. Everyone can enjoy the great taste and health benefits of Oatly. Oatly is low in saturated fat and contains the soluble fibre required to help lower cholesterol levels: just one 250ml glass of Oatly provides a third (1g) of the daily requirement of beta-glucans (soluble fibre) for cholesterol reduction as part of a healthy balanced lifestyle for those two out of three UK adults with a raised cholesterol level.

Suitable for vegans and vegetarians, Oatly oat drinks come in four long-life varieties (Chocolate, Enriched, Organic and Organic Dairy-Free Alternative to Cream). All Oatly oat drinks are lactose, milk protein and soya free so they're great for anyone who suffers from milk protein allergy, lactose intolerance and/or an allergy to soya.
More from Oatly

This delicious recipe can be served hot or cold. If fresh mangoes are not available, use canned slices.

A light chocolate pudding which doesn't cost the earth but tastes like heaven!

This dish is easy to prepare and suitable for a family meal or special occasion. Butternut squash is a very good source of beta-carotene, which can be converted into vitamin A by the body. Vitamin A helps to keep the skin and immune system healthy.
Popular in cake recipes

This recipe just makes my mouth water! Smooth, sweet buttercream with tempting, moist chocolate cake. Don't try and resist!

Classic lemon drizzle cake with a twist! The elderflower cordial adds an extra sweet flavour to this delicious cake. Try it and see!

For a surprising treat, the tomato ketchup cake is sure to tantalise your tastebuds!