Cinnamon bagels with fruit & oat compote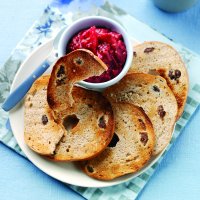 Making the compote ahead of time makes this an ideal breakfast for bringing into work
Preparation: 5 mins
Cooking: 5-6 mins
Serves: 2
What you need:
1 ripe pear, cored and diced
250g rhubarb, sliced
100g blackberries
25g caster sugar
2 tbsp oats
2 cinnamon and raisin bagels
What you do:
Place all the fruit and sugar in a medium saucepan with 1 tbsp water. Bring to the boil and cook covered for 5-6 minutes until softened but chunky. Add the oats and cool.
Meanwhile, slice each bagel into 5 thin discs and lightly toast on both sides. Serve with the fruit compote.
Cook's tip:
Replace the rhubarb with fresh plums and add some ground cinnamon to the compote. Serve with low fat natural yogurt.
This page can be found at: http://secretsauce.co.uk/cakes-desserts/breakfast-recipes/cinnamon-bagels-with-fruit-and-oat-compote/
A short link can also be used: http://bit.ly/dKqJWc
Farmhouse Breakfast Week 2011
Farmhouse Breakfast Week (23-29 Jan 2011) is back for its twelfth year, with a brand new theme – "Shake Up Your Wake Up". We're challenging all breakfast skippers to rethink their morning routines, and make time for the most important meal of the day. As many as one in four consumers regularly skip breakfast, so we are keen to raise awareness of the benefits that can be gained by making that little bit extra time for breakfast.
More from Farmhouse Breakfast Week 2011

Sausage baps are often served with onion marmalade, so why not try this version with real marmalade!

These look absolutely mouth-watering and they are! And even better, they take just 11 minutes to make!

If you think your porridge recipe's getting a bit samey, this delicious cranberry spiced version will liven it up!
Popular in breakfast recipes

A fantastic loaf to make in advance, then grab 'n' go any time!