Blackberry & almond bread & butter pudding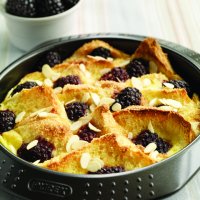 Buy five ingredients, add one store cupboard ingredient, and you'll have a delicious bread and butter pudding, devised by celebrity chef Rosemary Shrager, to enjoy!
What you need:
1 small brioche loaf
250g blackberries
2 eggs
285mls milk
25g flaked almonds
Store cupboard: 25g caster sugar
What you do:
Preheat the oven to 180oC/ 350oF/ gas mark 4.
Slice the brioche loaf and then cut into triangles. Layer the slices into a 20cm Pyrex Cake Pan.
Beat together the eggs, milk and sugar. Pour half the egg mixture over the brioche, allow approximately 5 minutes for the brioche to absorb the mixture before adding the remaining liquid.
Arrange the blackberries over the soaked brioche and bake in the oven for 15 minutes. Sprinkle the almonds over the bread and butter pudding and cook for a further 10 minutes.

Serve hot with fresh cream.
This page can be found at: http://secretsauce.co.uk/cakes-desserts/blackberry-recipes/blackberry-almond-bread-butter-pudding/
A short link can also be used: http://bit.ly/gsLPmT
National Baking Week 2008

National Baking Week
takes place from 20-26 October and is a celebration of baking. TV chef Rosemary Shrager is supporting the new campaign to revive and revitalise enthusiasm for home baking and get Britain baking.
More from National Baking Week 2008

This spicy pumpkin tea bread is just the thing to serve up for a Halloween treat

This is a lovely, creamy comfort dinner, with prawns, haddock and salmon making it a real fishy feast

Created in association with TV chef Rosemary Shrager, this dish is perfect for a quick meal for one, uses only 5 ingredients and takes just 5 minutes to make
Popular in blackberry recipes

This wonderfully decadent dessert is perfect to serve at a large family gathering.