Mushroom soup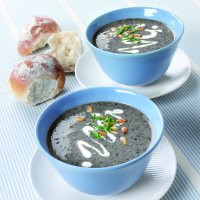 This is a gorgeous creamy soup with a bold mushroom flavour suitable for vegetarians and for freezing for a winter's day when you can't be bothered to go to the shops
Preparation time: 25 minutes
Cooking time: 30 minutes
Serves: 4
Suitable for vegetarians
Suitable for freezing

Calories per portion: 118 Kcal
Fat per portion 8.5g of which saturated 4.2g
What you need:

Butter 25g (loz)
Onion 1 large, peeled and finely chopped
Dried porcini mushrooms 15g (½oz), soaked in 225ml (8fl oz) boiling water
Large, flat, brown-skinned mushrooms 400g (14oz), wiped and roughly chopped
Vegetable stock 600ml (1 pint)
Milk 500ml (18fl oz)
Lemon 1, juice only
Single cream
Toasted pine nuts
Snipped chives
Melt the butter in a saucepan, add the onion and cook over a moderate heat until softened but not browned.
What you do:
Strain the liquid from the porcini and add the drained porcini with the fresh mushrooms to the saucepan.

Stir in the stock and milk and bring just to the boil.

Reduce the heat, cover and cook for 30 minutes.
Allow the soup to cool slightly and purée in a blender or food processor.

Season well, and add lemon juice to taste.

Serve with a swirl of cream and toasted pine nuts and chives.
Cook's tip
Dried porcini add a rich depth to this soup, they also taste good made into risotto for a store cupboard supper topped with a little crispy bacon or grated cheese.
This page can be found at: http://secretsauce.co.uk/vegetarian/soup-recipes/mushroom-soup/
A short link can also be used: http://bit.ly/hiAQiU
Skandi Candle
Pure soy wax candles in Flack Fig & Vetiver or Lemon fragrances - perfect for any dinner party or romantic night in.
Just One Pot cookbook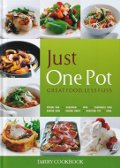 The new 'Just One Pot' Dairy cookbook is priced at £9.75 (plus £2 P&P). To order a copy or for further information call 0845 0948 128, speak to your local milkman or visit www.dairydiary.co.uk.
Popular in soup recipes

Spice up a simple tomato soup recipe with chilli and paprika, then serve with a dollop of sour cream and chive dip and warm crusty bread

This is such a great soup if you've just battled through wind and rain to get home. Serve with muffins or crusty bread

Healthy and full of vitamins, this soup is also a great winter warmer and it's made with soya, so it's vegan too!