Fowler salad dressing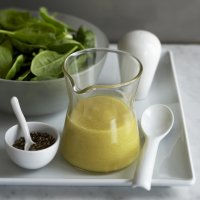 Celebrity Kim Wilde says, "This simple dressing recipe came from my husband Hal whose family are great cooks.
This dressing is perfect with salad leaves which could include young beet leaves, chard, Mizuna (Japanese Greens). Corn salad (Lambs lettuce), Mustard greens and rocket. Why not add some vibrant colour by throwing in some edible flowers such as nasturtium, chive, hollyhocks, borage, heartsease (Viola tricolor) and marigolds."
What you need:
6 tablespoons of good quality extra virgin olive oil
1 teaspoon of mustard (English or Dijon)
2 cloves garlic, crushed
1 tablespoon of white wine vinegar
½ teaspoon of caster sugar
Salt and Pepper, to taste
What you do:
Mix all the ingredients together in a bowl or jug, seasoning to taste.
This page can be found at: http://secretsauce.co.uk/vegetarian/salad-dressing-recipes/fowler-salad-dressing/
A short link can also be used: http://bit.ly/hd9Zvr
Seeds of Change

Seeds of Change's aim is to provide a range of good, honest food, full of taste and flavour that is also good for you. The range of delicious sauces, soups, pasta and cereal bars is organic and free of artificial additives and preservatives.
More from Seeds of Change

Creamy, delicious and filling - an easy and satisfying meal for the family

This is a great one-pot dish. Look out for good quality meat in your supermarket

This delicious rhubarb crumble recipe was created by gardener and celebrity Kim Wilde
Popular in salad dressing recipes

It's easy to make your own salad dressing if you know how... Try this easy and delicious recipe