Stuffed red peppers with garden vegetables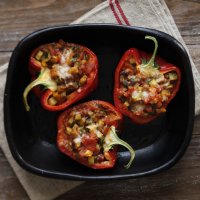 This delicious vegetarian dish looks fantastic when produced at a dinner party
Preparation: 20 mins
Cooking: 60 mins
Serves: 4
What you need:
2 large flat mushrooms, chopped
2 yellow peppers, deseeded and chopped
4 small courgettes, chopped
2 tbsp light olive oil
4 large ripe tomatoes, skinned, deseeded and chopped
1 medium white onion, chopped
2 garlic cloves, finely chopped
1 tsp sugar
1 tbsp red wine vinegar
350g jar Seeds of Change Cherry Tomato, Basil & Parmesan Sauce
1 small bunch basil, finely chopped
1 small bunch mint, finely chopped
4 red peppers (for stuffing), halved and deseeded
50g Parmesan cheese, finely grated
What you do:
Preheat the oven to 180°C/fan oven 160°C/gas 4
Heat 1 tbsp of the oil in a large frying pan. Fry the mushrooms for 3 minutes, then tip them into a large bowl and set aside. Repeat the process with the yellow peppers, courgettes and tomatoes, putting them all in the same bowl as you go
In the same frying pan, add 1 further tbsp of oil and fry the onion for 5 minutes, then add the garlic and sugar. After 5 more minutes add the vinegar and the Seeds of Change Cherry Tomato, Basil & Parmesan Sauce. When hot, add all the cooked vegetables and season with salt and pepper. Cook for 10 minutes, then add the herbs
Place the red peppers onto a roasting tray, cut side up. Spoon the vegetable mixture into them. Sprinkle with the Parmesan cheese and bake in the oven for 15-20 minutes. Serve with some fresh salad leaves
Handy cook's tip:
You can add chickpeas or pinto beans to this vegetarian dish and spice it up with a little Tabasco sauce.
This page can be found at: http://secretsauce.co.uk/vegetarian/pepper-recipes/stuffed-red-peppers/
A short link can also be used: http://bit.ly/gS87NM
Seeds of Change

Seeds of Change's aim is to provide a range of good, honest food, full of taste and flavour that is also good for you. The range of delicious sauces, soups, pasta and cereal bars is organic and free of artificial additives and preservatives.
More from Seeds of Change

Creamy, delicious and filling - an easy and satisfying meal for the family

This is a great one-pot dish. Look out for good quality meat in your supermarket

This delicious rhubarb crumble recipe was created by gardener and celebrity Kim Wilde
Popular in pepper recipes

Some people call halloumi 'squeaky cheese' because of its texture. We think it's simply delicious! Try it in this easy sandwich...

An easy, tasty family evening meal with a Chinese sweet and sour flavour!

The great thing about these stuffed peppers is they only take 10 minutes to prepare, then you can just pop them in the oven and forget about them for 45 minutes