Baghir - Moroccan semolina pancakes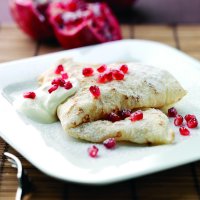 Try this delicious exotic twist on regular pancakes - you won't be disappointed!
Preparation: 10 mins
Cooking: 10 mins
Serves: 4
What you need:
5ml/1tsp dried yeast
5ml/1 tsp caster sugar
100g/4oz fine semolina flour
100g/4oz plain flour
2 large British Lion eggs, beaten
15ml/1tbsp olive oil
What you do:
Mix the yeast and sugar in a jug with 300ml/1/2pt warm water, leave for 10mins in a warm place until it is frothy
Place the flours in a large bowl, stir in the yeast mixture, eggs and olive oil and beat well until smooth. Now leave the mixture in a warm place until it has doubled in size - about 40mins
Heat a large non-stick frying pan until hot, drizzle a little oil over the centre and wipe around the pan with a piece of kitchen paper. Pour a ladleful of the mixture into the hot pan, and tilt the pan so that it thinly and evenly coats the surface of the pan - it should have lots of honeycomb holes. When the surface has dried, turn over the pancake and cook for a further 1 min. Repeat to make about 7 pancakes in the same way, keeping them warm in between
To serve: Transfer to a plate, dust with icing sugar and serve with pomegranate seeds
Handy cook's tip:
Leave the mixture to prove for the best texture.
This page can be found at: http://secretsauce.co.uk/vegetarian/pancake-recipes/baghir-moroccan-semolina-pancakes/
A short link can also be used: http://bit.ly/erRt7o
British Lion eggs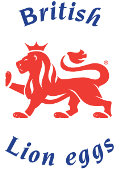 Look for the Lion on eggs to guarantee the highest standards of food safety. All Lion Quality eggs come from British hens vaccinated against salmonella and are date-stamped for freshness.
More from British Lion eggs

Celebrity chef Marcus Wareing's fantastic recipe for baked egg custard tart serves 8, but be prepared for it to only serve 4 because everyone will want a double helping!

Daniel Costello's Spanish baked eggs recipe was chosen by celebrity chef Paul Merrett as a winning recipe in British Lion eggs' Eggs Factor competition

What could be more fun on Pancake Day than setting fire to your dessert?
Popular in pancake recipes

Make a simple pancake batter, add canned sweetcorn then fry in a pan with oil. Simple!

A delicious pancake recipe with a twist

Try this Mediterranean version of the regular pancake - a delicious and easy dinner