Portabello mushroom burgers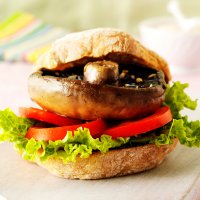 Prep: 5 mins
Cook: 5 mins
Serves: 4
What you need:
4 large portabello or large field mushrooms
30ml/2 tbsp olive oil
1 clove garlic, crushed
salt and ground black pepper
4 crusty ciabatta rolls
crisp lettuce
sliced tomatoes
houmous to serve
What to do:
Place the mushrooms in a shallow dish, add the oil, garlic and seasoning and toss until the mushrooms are evenly coated. Leave to marinate for at least 10 mins.
Cook the mushrooms over hot barbecue coals or a griddle pan for 8-10 mins turning once until browned on both sides and tender when tested with a fork. Transfer to a plate, gill side down and leave for 5 mins.
Toast the ciabatta rolls on the hot barbecue coals. Fill with lettuce, tomato and top with the mushrooms. Delicious served with houmous spooned over.
This page can be found at: http://secretsauce.co.uk/vegetarian/mushroom-recipes/portabello-mushroom-burgers/
A short link can also be used: http://bit.ly/eRNgdG
Popular in mushroom recipes

These little mushroom pies look so impressive but are really easy and quick to make.

The perfect quick dish - the combination of garlic, mushrooms and cream is taken to another level

Everyone will be hungry when they smell and see the wonder that is beautiful fried mushrooms and warm melted quark oozing between the toast