Muesli porridge & strawberries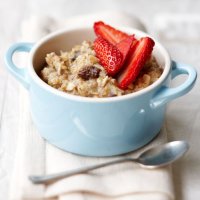 Get your day off to a healthy start with this delicious muesli that will give you energy to keep going until lunchtime
Serves: 1
Per serving:
Total calories: 262 kcal
(g)
Total fat: 6.5
Saturated fat: 1.0
Polyunsaturated fat: 2.8
Monounsaturated fat: 2.3
Carbohydrates: 43
Sugar: 13
Total protein: 7.8
(Soya protein: 2.0
What you need:
25g/1oz jumbo oats
2 tbsp Swiss style muesli
200ml/7fl oz Alpro soya Light alternative to milk
1 tsp golden caster sugar
4 strawberries, hulled and sliced
What you do:
Put the oats and muesli into a microwave-proof bowl. Pour over the Alpro soya Light and stir together.
Microwave on High 900w for 2½ minutes, stir and microwave for 30 seconds more until the oats are tender and the Alpro soya Light has absorbed. (Heat and stir through in a pan if you prefer.)
Add the golden caster sugar to sweeten, stir and top with strawberries
This page can be found at: http://secretsauce.co.uk/vegetarian/muesli-recipes/muesli-porridge-strawberries/
A short link can also be used: http://bit.ly/hdDPl2
Alpro Soya

Alpro Soya creates delicious products for you to enjoy any time of the day. Made from the goodness of the whole soya bean, they are prepared with care and with the utmost respect for people and planet.
More from Alpro Soya

Don't just boil those potatoes - make them a dish in itself with this delicious traditional recipe

Looking for a vegetarian alternative for Christmas dinner? Try this traditional and delicious nut roast

Start the day with this substantial breakfast that will give you enough energy to last until lunchtime