Halloumi & lentils with lemony soy dressing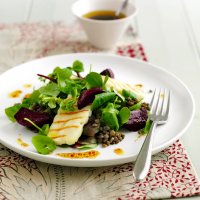 A delicious summery salad created by TV chef Dean Edwards for Kikkoman
Preparation: 10 mins
Cooking: 60 mins
Serves: 4
What you need:
3 small beetroot, peeled and quartered
2 tbs balsamic vinegar
1 tbs Kikkoman Soy Sauce
2 sprigs fresh thyme
200g puy lentils
250g halloumi cheese, sliced
Mixed salad leaves
Dressing:
4 tbs extra virgin olive oil
juice 1 lemon
2 tbs Kikkoman Soy Sauce
What you do:
Drizzle the beetroot with the balsamic and Kikkoman Soy Sauce, sprinkle with thyme then roast in an oven preheated to 200c / 180c fan for around 1 hour.
Meanwhile cook the lentils over a medium heat for 15-20 mins until cooked through but still retain a bite, drain and set aside to cool.
On a pre heated griddle pan cook the sliced halloumi for 1-2 mins per side. Meanwhile whisk the dressing ingredients together. Dress the lentils with half of the dressing reserving the rest for the salad leaves. Serve with the lentils and salad leaves
Cook's tip:
Use ready cooked beetroot to save on the cooking time
This page can be found at: http://secretsauce.co.uk/vegetarian/lentil-recipes/halloumi-and-lentils-with-lemony-soy-dressing/
A short link can also be used: http://bit.ly/MEVvDI
Kikkoman

Kikkoman's world famous naturally brewed soy sauce is still made to the same traditional recipe created in Japan 300 years ago using just soybeans, wheat, salt and water to bring out the flavour of your dishes.
More from Kikkoman

This scrumptious chilli con carne contains a little dark chocolate to make it rich and deep and flavour, but don't worry, you won't be able to taste it as such

Make something a bit different from your usual chicken stir-fry with sticky sweet honey and garlic to coat the chicken

This is the simplest way to prepare prawns, just follow our recipe and you'll have peppery soy prawns in a flash!
Popular in lentil recipes

Ideal for a vegetarian appetiser or light lunch - these burst with flavour!    

Lentils are great pulses - they're so good for you and with goat's cheese and SunBlush anti pasti, you've got a lovely Mediterranean dish full of flavour