Toasted garlic hummus with radishes & pitta bread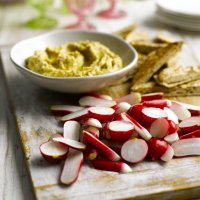 A really healthy lunchtime snack and equally perfect as an accompaniment for grown-up drinks.
Preparation: 10 mins
Cooking: 5 mins
Serves: 4
What you need:
Hummus:
6 cloves of garlic, sliced
4 tbsp extra virgin olive oil
400g tinned chickpeas, drained
1 lemon zested and juiced
1 tbsp tahini
Salt and pepper
Accompaniments:
400g mixed radishes cut in half
4 warmed pitta breads
What you do:
Place the garlic and olive oil into a medium sized frying pan, heat gently until the garlic starts to turn a golden brown, remove from the heat and set aside.
Place all of the hummus ingredients into a food processor, blend until, fairly smooth and season with salt and pepper.
Serve with radishes and warmed pitas.
This page can be found at: http://secretsauce.co.uk/vegetarian/hummus-recipes/toasted-garlic-hummus-with-radishes-and-pitta/
A short link can also be used: http://bit.ly/OuMj47
Love Radishes

Often thought of as just 'a bite on the side', the humble radish, with its crisp, crunchy texture and distinctive peppery bite, is a deliciously versatile snack or ingredient, perfect for adding a subtle kick to salads, sandwiches, stir fries and more.
More from Love Radishes

A delicious, healthy and quick snack or light lunch bursting with subtle flavours and brimming with colour!

A delicious Bloody Mary recipe complete with retro celery sticks and the requisite balance of fresh and bold flavours.

This beautiful and nutritious dish is inspired by the flavours of Asian cooking.
Popular in hummus recipes

Cut the griddled pittas into strips and serve with vegetable crudites for a buffet