Tomato & almond-stuffed courgettes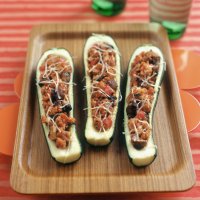 Bring a real taste of the Mediterranean to the table with these delicious tomato and almond-stuffed courgettes
What you need:
1 Jar Loyd Grossman Island Inspirations Sundried Tomato and Almond Sauce
6 Medium Courgettes
5 Tablespoons Grated Parmesan Cheese
5 Tablespoons Breadcrumbs
What you do:
Heat oven to 180C. Slice the courgettes in half lengthways and scoop out the seeds.

Spoon in the sauce into the courgettes and place on a lightly oiled baking tray and cover with foil.

Bake in the oven for 20 minutes.

Remove foil, top the courgettes with the mixed breadcrumbs and Parmesan and return to the oven for 20 minutes until the topping is crisp and golden brown.
This page can be found at: http://secretsauce.co.uk/vegetarian/courgette-recipes/tomato-almond-stuffed-courgettes/
A short link can also be used: http://bit.ly/gcTbaN
Loyd Grossman

Try Loyd Grossman's deliciously tasty food range, including pour over sauces, soups, pasta and breads, for premium quality and inspired variety.
More from Loyd Grossman

With hardly any preparation required, this pasta dish delivers exactly what it says it will, it's quick and delicious!

This fresh seafood and spicy chorizo paella cooked with a rich tomato and basil sauce makes a perfect one-pot dinner to share alfresco.

A fusion of juicy tomatoes, fresh cream, natural yoghurt with aromatic spices and a hint of honey served with king prawns
Popular in courgette recipes

Delicious savoury scones - eat them straight out of the oven!