Edam bean burgers with tomato relish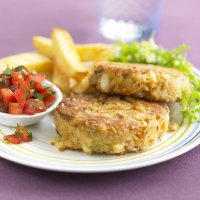 You can make these as large or as small as you like. Serve on focaccia or ciabatta bread with your favourite salad leaves and zingy tomato relish.
Serves: 4
Prep: 15 minutes + chilling
Cook: 10 minutes
What you need:
100g/3 ½ oz Edam cheese (wedge) cut into very small cubes
55g/2oz pine nuts, toasted
2 x 300g cans cannellini beans, drained and rinsed
5 spring onions, chopped
30ml/2tbsp sun-dried tomato paste
75g/2 3/4oz fresh breadcrumbs
1 egg, beaten
sunflower oil for frying



For the tomato relish:

4 ripe tomatoes, diced
1 red pepper, de-seeded and diced
1 garlic clove, crushed
3 tbsp flat leaf parsley, chopped (25g packet)
1tbsp olive oil
1/2 lemon, juice only
What you do:
Place a frying pan over a medium heat and lightly toast the pine nuts for 2-3 minutes or until golden. Remove from pan and set to one side.
Place the beans in a large bowl and mash well with a potato masher or fork. Add the Edam, pine nuts, onion, tomato paste and a third of the breadcrumbs. Season and gently mix together until the ingredients are thoroughly combined.
Shape the mixture into 8 burgers. Coat the outside of each burger first with the beaten egg, then with the remaining breadcrumbs. Cover and chill in the fridge for 20 minutes.
Meanwhile, mix all the tomato relish ingredients together, season well and set to one side.
Heat 1cm/ 1/2 in sunflower oil in a large non-stick frying pan and add the burgers. Fry for 3-4 minutes each side until golden and heated through, drain on kitchen paper.
Serve with favourite salad leaves and tomato relish in summer, or new potatoes and green beans in winter.
Lesley's tips
You can use borlotti beans or chickpeas in this recipe.
If you want to cook the burgers in the oven, simply pre-heat to 190C, 375F, Gas 5. Place the burgers on an oiled baking sheet sprayed spray with a little oil. Cook for 20 minutes or until golden and heated through.
If you fancy a relish with a little kick! Add a few drops of Tabasco depending on the heat you like.
This page can be found at: http://secretsauce.co.uk/vegetarian/burger-recipes/edam-bean-burger-tomato-relish/
A short link can also be used: http://bit.ly/fLUNUp
Edam

Edam has 25% less fat than cheddar - which means everyone can indulge in lovely cheese without the consequences.
More from Edam

This favourite family recipe from the 1970s is given a twist with the addition of leeks and mushrooms.

These delicious savoury muffins are perfect for brunch - they combine Edam cheese with bacon and sundried tomatoes. Delicious served warm or cold at a family picnic or in a kid's lunchbox!

This cheesy meatball and pasta bake makes a great midweek meal, perfect for all the family. The natural, mild taste of Dutch Edam means this pasta dish is a winner with the kids. Just serve with a crisp green salad.