Porridge topped with fruit & seeds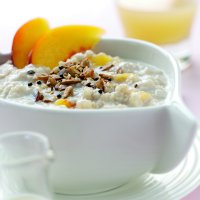 Porridge oats release energy slowly so are very healthy and will stop you snacking before lunch!
Serves: 1
Preparation time: 5 minutes
Cooking time: 5 minutes
What you need:
50g porridge oats
350ml Semi Skimmed Milk
½ nectarine
1 tsp toasted mixed seeds
What you do:
Place the oats and Milk in a small saucepan and bring to the boil, simmer for 4-5 minutes.
Dice half the nectarine and stir into the porridge and pour into a bowl.
Slice the remaining nectarine and place on top of the porridge then sprinkle over the seeds.
Add a little extra Milk on top if desired.
This page can be found at: http://secretsauce.co.uk/vegetarian/breakfast-recipes/porridge-topped-with-fruit-and-seeds/
A short link can also be used: http://bit.ly/h6gLpy
Dairy Crest

Dairy foods including milk, butter and cheese are a valuable and versatile part of a healthy balanced diet and can all be delivered to your door by your Dairy Crest milkman, without you even needing to leave home.
More from Dairy Crest

This strawberry cheesecake makes your mouth water just at the sight of it - so it's not too much of a stretch to imagine how much your tastebuds will like this too!

For a quick and easy evening meal, chicken, leek and Cheddar bake, with melt in the mouth cheese, will be a firm family favourite that takes just 10 minutes to prepare

A juicy, tender steak with a traditional peppercorn sauce and an added chilli kick, ready in just 10 minutes
Popular in breakfast recipes

This is a really healthy, good for you breakfast that tastes delicious too with fruit mixed berries and sweet strawberry yoghurt

If you're sporty or need a good breakfast before going to the gym or doing other exercise, this staffordshire oatcakes with eggs dish will keep you full of energy

Quick, simple and tasty too - no excuse not to make time for breakfast now!