Apple loaf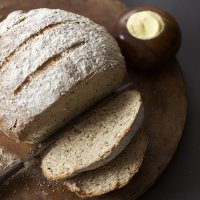 The sweet apple flavour makes this loaf really delicious - serve it with your favourite soup
What you need:
600g/ 1lb 6oz Allinson Seed and Grain Bread Flour
1-2 tsp fine sea salt
15g /1/2oz Allinson Easy Bake Yeast
75g/3oz cooking apple, grated
150ml/1/4pt apple juice
200ml/7floz tepid spring water
1 tbsp mixed seeds
What you do:
Put the Allinson Seed and Grain Bread Flour into a bowl with the salt and Easy Bake Yeast.
Pour in the apple juice, tepid spring water and grated apple. Mix together to make a dough. Leave to rise in a warm place for up to 1 hour.
Tip the dough out onto a lightly floured surface and knead for 10-15 minutes until the dough is smooth and elastic.
Shape the dough into a round or oval shape and put onto a greased baking sheet. Sprinkle with the seed mix. Cover with a large bowl to prevent it forming a skin on the outside. Leave in a warm place until doubled in size, for up to 1 hour.
Meanwhile, preheat the oven to 220C/200C fan/gas mark 8. When the loaf has almost doubled in size, slash it down the centre with a sharp knife.
Reduce the oven temperature to 190C/170C fan/gas mark 5 and bake the bread for 40-45 minutes until golden brown and hollow when the base is tapped.
This page can be found at: http://secretsauce.co.uk/vegetarian/bread-recipes/apple-loaf/
A short link can also be used: http://bit.ly/dQ3kK6
Baking Mad

Baking Mad - with recipes and baking ideas, it's the place for everything you ever wanted to know about baking.
More from Baking Mad

Just look at the fantastic colour of the icing on these fairy cakes - and there's not a hint of food colouring in sight

The longer you soak the fruit for these Christmas cakes, the better the flavour will be. Then make the cake a few days before for a moisty gorgeous spongy texture. Heavenly!

Forget the traditional Cornish pasty, this sweet potato, smoked cheese and squash version is twice delicious!
Popular in bread recipes

Who can resist the smell of a freshly-baked loaf? And this wholemeal cottage loaf is good for your figure too!

If you like making your own bread, or you've never tried, this is a great recipe - full of subtle chilli flavour that will go with lots of savoury dishes

This cost-conscious savoury meal makes the most of bread that might be a little past its prime. It uses bread from a 3- to 4-day-old loaf to its best advantage to make a fantastic main course meal that's suitable for vegetarians