Pain perdu with caramelised apple wedges, plums & walnuts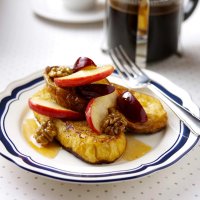 A wonderfully decadent breakfast or brunch dish, pain perdu means 'lost bread' and can be made using any left over bread. Luxurious brioche is used in this easy to prepare French recipe. The caramelised fruit and walnut topping are all grown in the d'anjou region of France and work like magic together.
Preparation: 10 mins
Cooking: 20 mins
Serves: 4
What you need:
For the caramelised fruit topping:
50g golden caster sugar
30g butter, diced
1 Pink Lady apple, halved cored and cut into wedges
4 ripe plums, stone removed and quartered
12 walnut halves
For the Pain Perdu:
2 large free-range eggs
25g-50g golden caster sugar
100ml whole milk
4 slices brioche or bread, 2cm thick slices
40g butter
Cinnamon flavoured creme fraiche (optional)
What you do:
First make the caramelised fruit. In a medium frying pan add the sugar and 2 tablespoons of water, then cook on a medium heat until the sugar dissolves. Turn the heat up a little and cook until the caramel is a light golden colour, stir in the butter, simmer for a minute until it is smooth and golden.
Add the fruit and walnuts, coating evenly. Leave in the pan keeping warm.
To make the Pain Perdu, beat the eggs and sugar (use less if bread is sweet) together, gradually add the milk.
Place the brioche slices in the egg mixture and soak for a minute before turning over, allow them to absorb the liquid.
In a large frying pan over a medium heat melt half of the butter, when it starts to foam gently, using a fish slice add 2 slices of the brioche, cook for approximately 2 minutes each side until golden. Repeat the process with the remaining butter and brioche while keep warm whilst cooking the remaining 2 slices.
Place the slices on 4 warm plates and spoon over the fruit with all the lovely caramel juices, serve immediately. If desired, serve with a large spoonful of creme fraiche flavoured with a little ground cinnamon.
Please credit www.pinkladyapples.co.uk
This page can be found at: http://secretsauce.co.uk/vegetarian/apple-recipes/pain-perdu-with-caramelised-apple-wedges/
A short link can also be used: http://bit.ly/1j2DQHR
Pink Lady apples

Pink Lady apples have a distinctive crisp texture and fizzy flavour – similar to champagne. It takes 200 days of tender care and, once ripe, each apple undergoes a rigorous quality control process to ensure that the high standard is kept – only the best apples can become a Pink Lady apple. Pink Lady apples are perfect culinary apples as they retain their texture and unique flavour and little, if any, additional sugar needs to be added.
More from Pink Lady apples

Flapjacks are great for desserts, snacks and even lunchboxes, so make up a tray and watch them disappear!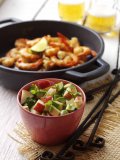 Even when the sun doesn't always shine this tasty, zingy very easy to make Australian recipe will make it seem like it does.

This wonderfully decadent dessert is perfect to serve at a large family gathering.
Popular in apple recipes

The most versatile sauce you could wish for. It's light, fruity and easy to make.