Mushroom stir-fry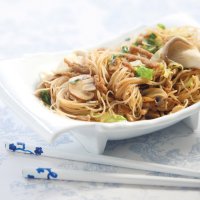 No one wants to spend ages in the kitchen after work, so try this mushroom stir-fry to feed the family in just 20 minutes
Serves: 4
Preparation time: 10 minutes
Cooking time: 10 minutes
What you need:
4 tbsp vegetable oil
200g minced pork
3 tsp fresh root ginger, peeled and finely chopped
3 cloves garlic, peeled and finely chopped
4 tbsp shaoxing wine or dry sherry
2 tbsp Blue Dragon Soy Sauce Light
1 pointed green cabbage, finely shredded
50g fresh or re-hydrated shitake mushrooms, finely sliced
50g fresh oyster mushrooms, finely sliced
50g fresh chestnut or button mushrooms, finely sliced
400g Blue Dragon fine Rice Noodles, cooked to pack instructions
8 spring onions, shredded into 5cm strips
Toasted sesame seeds, to garnish
What you do:
Add 2 tbsp oil to the wok. Heat, coat the wok and stir fry the pork until tender and crispy. Remove and set aside.
Add the remaining oil to the wok, heat and add the ginger and then the garlic. Stir fry for a few seconds until the aroma is released. Then add the shaoxing wine and Blue Dragon Soy Sauce Light.
Then add the cabbage and stir fry for 30 seconds until wilted. Then add the mushrooms, stir fry for a further 30 seconds to 1 minute until tender.
Return the pork to the wok, add the noodles and spring onions and stir fry until warmed through and combined - add a couple of tablespoons of water or stock if needed. Serve topped with toasted sesame seeds.
This page can be found at: http://secretsauce.co.uk/pasta-rice/stir-fry-recipes/mushroom-stir-fry/
A short link can also be used: http://bit.ly/gvqk5E
Blue Dragon

Blue Dragon was created over 30 years ago to help British people create authentic Chinese dishes at home. Since then it's gone truly pan-Asian, with ingredients to help create delicious dishes from Thailand, Japan and Vietnam and expanding the Chinese range.
More from Blue Dragon

Cocktail sausages cooked in honey are popular finger food, but wait until you've tried these sweet chilli versions

Isn't curry Indian? Not in this recipe - it's Chinese and delicious with egg fried rice

A delicious and unusual recipe, this sticky plum and duck stir-fry is amazing served with beetroot crisps and pistachios
Popular in stir fry recipes

A quick, nutritious and versatile family meal created by celebrity chef Nancy Lam