Egg lemon soup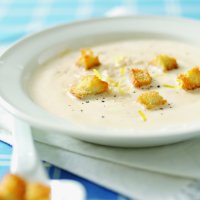 This egg lemon soup by Manya Merodoulaki was a finalist in British Lion egg's Eggs Factor competition, judged by celebrity chef, Paul Merrett
Preparation: 5mins
Cooking: 10mins
Serves: 2
What you need:
600ml/1 pt good quality chicken stock
50g/2oz long grain rice
3 large Lion Quality eggs
Zest and juice 1 lemon
Croutons to serve
What you do:
Place the stock and rice in a large pan and bring to the boil. Simmer the rice for 10mins or until tender. Remove from the heat.
In a large bowl, whisk the eggs with an electric whisk until they are thick and cream. Add the lemon juice and whisk again. Add a ladleful of the hot stock to the bowl and whisk again.
Add another ladle of stock and whisk again. Now add the egg mixture to the pan and stir well. Continue stirring until the soup thickens slightly - put it back over a very gentle heat if it doesn't seem to be thickening -- but be careful as it will separate if overheated.
Ladle the soup into bowls, scatter over the lemon zest and pepper and serve with croutons.
This page can be found at: http://secretsauce.co.uk/pasta-rice/soup-recipes/egg-lemon-soup/
A short link can also be used: http://bit.ly/g4l8SK
British Lion eggs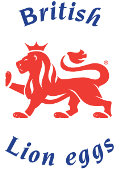 Look for the Lion on eggs to guarantee the highest standards of food safety. All Lion Quality eggs come from British hens vaccinated against salmonella and are date-stamped for freshness.
More from British Lion eggs

Celebrity chef Marcus Wareing's fantastic recipe for baked egg custard tart serves 8, but be prepared for it to only serve 4 because everyone will want a double helping!

Daniel Costello's Spanish baked eggs recipe was chosen by celebrity chef Paul Merrett as a winning recipe in British Lion eggs' Eggs Factor competition

A fantastic recipe for brunch - it looks decadent and you'll soon be wanting it every day!