Smoked salmon carbonarish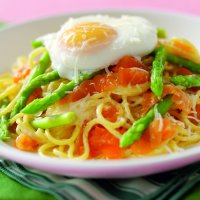 A finalist in British Lion egg's Eggs Factor contest, Vicky Nowak's smoked salmon carbonarish was judged to be one of the best by celebrity chef Paul Merrett
Preparation: 5 mins
Cook: 6-7 mins
Serves: 2
What you need:
3 Lion Quality eggs
100ml/4floz double cream
30ml/2 tbsp dry white wine (optional)
225g/8oz fresh spaghetti
75g/3oz fresh asparagus tips, halved
75g/3oz smoked salmon, cut into strips
25g/1oz freshly grated Parmesan
Salt and freshly ground black pepper
What you do:
In a bowl, whisk together one egg, the cream and white wine with plenty of ground black pepper. Fill a frying pan with water and bring to the boil. Reduce the heat to a gentle simmer, gently crack in two eggs and poach for 3mins according to your taste. Remove from the heat.
Whilst the eggs cook, cook the spaghetti and asparagus in a large pan of boiling salted water for 3-4mins (according to packet instructions) until tender. Drain in a colander then return to the pan.
Add the egg mixture to the pasta with the salmon and half the cheese. Mix well. divide between two plates. Use a slotted spoon to lift the eggs from the water and place on top of the pasta. Serve with a sprinkle with of Parmesan and season with black pepper.
This page can be found at: http://secretsauce.co.uk/pasta-rice/smoked-salmon-recipes/smoked-salmon-carbonarish/
A short link can also be used: http://bit.ly/fZVSY5
British Lion eggs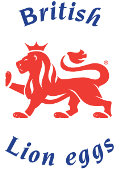 Look for the Lion on eggs to guarantee the highest standards of food safety. All Lion Quality eggs come from British hens vaccinated against salmonella and are date-stamped for freshness.
More from British Lion eggs

Celebrity chef Marcus Wareing's fantastic recipe for baked egg custard tart serves 8, but be prepared for it to only serve 4 because everyone will want a double helping!

Daniel Costello's Spanish baked eggs recipe was chosen by celebrity chef Paul Merrett as a winning recipe in British Lion eggs' Eggs Factor competition

A fantastic recipe for brunch - it looks decadent and you'll soon be wanting it every day!