Mushroom, bacon, pea & low-fat cheese risotto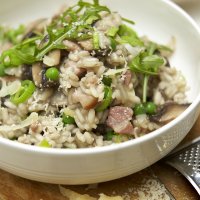 This hearty supper is full of robust flavours ideal for serving to families or friends. Accompany with a peppery rocket salad.
Serves: 4
Preparation time: 10 minutes
Cooking time: 30-35 minutes
What you need:
1 onion, peeled and chopped
75g low salt lean back bacon, roughly chopped
1 large leek, thinly sliced
1 tbsp olive oil
1 litre low salt chicken stock
350g Arborio rice
ground black pepper
60ml white wine
½ lemon (rind pared)
2 tbsp lemon juice
225g brown cap mushrooms, sliced
75g petit pois or garden peas, thawed
125g low fat hard cheese, finely grated rocket leaves and a drizzle of virgin olive oil to serve
What you do:
Bring the stock to the boil in a large saucepan and keep it at barely simmering point.
Heat the oil in a large heavy based saucepan, add the onion, bacon, leeks and 2 tbsp water and cook for about 2-3 minutes or until beginning to soften.
Stir in the rice and season well. Add the wine, lemon rind and lemon juice and a ladleful of stock. Cook gently, stirring occasionally until the wine and stock is absorbed.
Add the mushrooms and gradually begin adding the simmering liquid, a ladleful at a time, allowing each addition to be absorbed before adding the next, keep stirring and adding ladleful's of stock (this will take about 25 minutes).
When most of the stock has been added and the rice is creamy, add in the peas and low fat grated hard cheese and stir until the cheese begins to melt. Remove the lemon rind and check the seasoning.
Serve the risotto in warm bowls with a handful of rocket leaves on each plate.
This page can be found at: http://secretsauce.co.uk/pasta-rice/risotto-recipes/mushroom-bacon-pea-cheese-risotto/
A short link can also be used: http://bit.ly/hIWE0Y
The British Cheese Board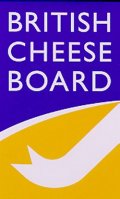 The British Cheese Board is the voice of British cheese and is dedicated to educating the public about the nutritional benefits of cheese as part of a balanced diet in the UK. There are over 700 varieties of British cheese available with a British cheese for every occasion.
More from The British Cheese Board

Succulent fish fillets topped with melting Red Leicester cheese taste superb - especially when served with a delicious aubergine and tomato salsa

This is a delicious dish for a special occasion and really straightforward to make. You can also try this cheesy topping on ciabbatta bread or chicken breasts.

Chunks of swede, carrot, leek, parsnips, butterbeans in a tomato based sauce topped with scone type mixture with a Double Gloucester cobbler topping
Popular in risotto recipes

A lovely, filling meal that takes only 5 minutes to prepare and there are some great tips at the end of this recipe to help you save money!

This recipe's really quick to make with tender asparagus and nutty Parmesan the stand-out flavours in this dish

Got home late, hungry and need a quick and easy meal for two? This mushroom, rocket and pea risotto is ready in a flash and will you leave you content!