Stuffed mushrooms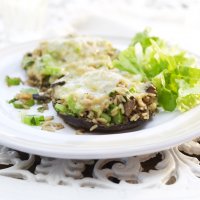 You can make this meal really cheaply, but don't think that sacrifices flavour with large flat mushrooms filled with melted cheese, herbs and garlic and filling, tasty rice
Serves: 2
Prep/cooking time: 20 minutes
What you need:
25g (1 oz) butter
1 tbsp olive oil
2 spring onions, sliced
2 cloves garlic, crushed
1 stick celery, finely sliced
4 large flat mushrooms
1 x 250g pack Uncle Ben's® Express Mushroom Rice
1 tbsp freshly chopped parsley
25g (1 oz) Cheddar cheese, grated
What you do:
Melt the butter and half the olive oil in a frying pan and sauté the spring onions, garlic and celery for 2-3 minutes.
Cut the stalk for the centre of the mushrooms, chop them and add to the frying pan. Cook for 1-2 minutes then spoon into a bowl.
Heat the rice according to the pack instructions, then add to the bowl with the freshly chopped parsley and mix well.
Heat the remaining oil in the frying pan and lay the mushrooms, skin side down, into the pan. Spoon the rice mixture into each mushroom and cook for 4-5 minutes over a low heat.
Sprinkle each mushroom with the grated cheese and place under a pre-heated grill for 2-3 minutes until golden and bubbling.
This page can be found at: http://secretsauce.co.uk/pasta-rice/mushroom-recipes/stuffed-mushrooms/
A short link can also be used: http://bit.ly/dRZ6dh
Uncle Ben's

Uncle Ben's chefs have spent years developing a range of products that bring the flavours of the world to mealtimes. The range includes perfect rice, every time, the subtle flavours of the Orient, a Mexican Fiesta, a taste of Indian and a fantastic Thai range.
More from Uncle Ben's

This easy-to-make tasty meal is really healthy - helping you towards your 5-a-day. Make it with beef mince, or choose Quorn mince if you're vegetarian.

A family favourite, learn how to cook it up in minutes!

Make a tasty treat for Bonfire Night (and beyond!) with this easy solution for a fun family supper.
Popular in mushroom recipes

Conchiglioni are large pasta shells which are great for chunky sauces as it gets trapped inside! If you prefer you can use another chunky pasta shape - rigatoni would equally work well

If the weather's miserable, don't despair, these vegetarian kebabs can just as easily be made under the grill indoors