Purple sprouting broccoli with anchovy, lemon & garlic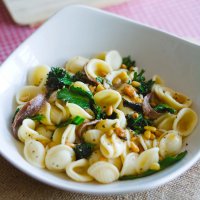 When you start to see tender stems of purple sprouting broccoli for sale, it means spring is here. That can only be a good thing - lighter evenings and no more defrosting the car of a morning. It might even be warm enough to sit outside and eat!
What you need:
375g (12oz) pasta
2 x 200g (7oz) packs purple sprouting broccoli
1 garlic clove
1 quantity roasted lemon dressing
3 tbsp toasted pine nuts
6 anchovies
salt and pepper
What you do:
Cook the pasta in a large pan of boiling salted water.
Meanwhile snap the broccoli in half and add it to the pasta after it has been cooking for 5 minutes. Crush the garlic. Tip the cooked pasta and broccoli into a colander and stand it in the sink to drain.
Pour the dressing into the pan you have just cooked the pasta in, followed by the pine nuts, anchovies and crushed garlic.
Add the pasta and broccoli, and stir carefully so that all the pasta is coated in the dressing.
Taste and season with a little black pepper. You don't need any more salt as the anchovies are salted and there was salt in the cooking water.
Roasted lemon dressing:
What you need:
2 lemons
100ml (31⁄2fl oz) extra-virgin
olive oil
1 tsp honey
salt and pepper
handful of flat-leaf parsley
sprig of rosemary (optional)
What you do:
Place a non-stick pan on a medium heat. Cut the lemons in half, rub a little
oil on to the cut sides and place them cut side down in the pan. Cook the
lemons until they take on a lovely golden colour.

Turn off the heat, carefully squeeze the lemon juice out into the pan and
add the olive oil, honey, salt and pepper.

Finely chop the parsley and add to the dressing. Pour it into a clean jam jar
or bottle and push in the sprig of rosemary if using. Store the dressing in
the fridge – it will keep for 3–4 weeks at least.

This page can be found at: http://secretsauce.co.uk/fish-seafood/broccoli-recipes/purple-sprouting-broccoli-with-anchovy/
A short link can also be used: http://bit.ly/yemRHq
Simply Good Pasta by Peter Sidwell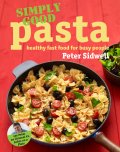 Presenter of Channel 4's cookery series, Lakes on a Plate and author of Simply Good Taste and Simply Good Bread, TV chef, Peter Sidwell is back with his no-nonsense cookbook – Simply Good Pasta – a seasonal selection of light, quick and snappy fresh pasta recipes for those who want to run riot in the kitchen and create!
Simply Good Pasta is published by Simon & Schuster UK, priced £14.99. The book is available from March 2012.
More from Simply Good Pasta by Peter Sidwell

Chef Peter Sidwell says: 'The creaminess of the ricotta works perfectly in this recipe but, I have to admit, I'm a sucker for the crispy bits!