Venison balti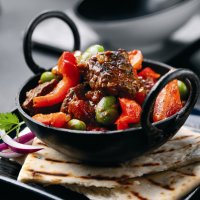 This is an excellent dish to whip up when time is short as it's quick and easy to prepare. Swap the venison for a mix of vegetables, chicken or lamb if you prefer
Serves: 4
What you need:
1 tbsp vegetable oil
1 tsp chopped ginger
¼ tsp coriander seeds
¼ tsp crushed red chilli flakes
3 large venison steaks cut into 2cm cubes
2 large red peppers cut into 2cm dices
100 gm of blanched broad beans
6 - 8 tbsp Seeds of Change Balti sauce
What you do:
Heat oil and sauté ginger for 30 seconds and then add coriander and red chilli flakes
Sauté for 1 minute and add peppers and broad beans, stir to seal for 2 minutes
Add diced venison and cook for 3-4 minutes until the meat is 3/4 cooked
Add sauce and simmer for 2-3 minutes or until the venison is cooked. Serve hot with bread or rice
This page can be found at: http://secretsauce.co.uk/meat-poultry/venison-recipes/venison-balti/
A short link can also be used: http://bit.ly/gE9vqS
Seeds of Change

Seeds of Change's aim is to provide a range of good, honest food, full of taste and flavour that is also good for you. The range of delicious sauces, soups, pasta and cereal bars is organic and free of artificial additives and preservatives.
More from Seeds of Change

Creamy, delicious and filling - an easy and satisfying meal for the family

This is a great one-pot dish. Look out for good quality meat in your supermarket

This delicious rhubarb crumble recipe was created by gardener and celebrity Kim Wilde
Popular in venison recipes

If ever there was a delicious winter warmer stew, then this one must be top of the list. A real pot of comfort food.

If you've never cooked with venison before, this recipe is a fantastic place to start and it's really straightforward too

The port or banyuls brings out the flavours in the venison and the pears are sweet and delicious alongside