Thai-style turkey bites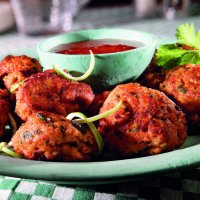 These tasty turkey bites are great for using up Christmas leftovers and can be made ahead of time - just refrigerate and reheat when needed
Serves: 10
Preparation time: 15 mins
Calories per serving (kcal): 80
Fat per serving (grams): 3.8
For calories and fat figures: 1 bite = 1 serving
What you need:
225g of cooked turkey
2 shallots, chopped
1 clove garlic, halved
1tsp Thai red curry paste (more if you like a hotter taste)
1 stalk lemon grass, outer leaves removed, chopped (optional)
Handful fresh coriander and basil
Juice of 1½ limes
Olive oil for pan-frying
3 eggs
Coriander leaves, to garnish
Sweet chilli sauce, to serve
Salt & Pepper for seasoning
What you do:
In a food processor, add turkey and whizz until well minced. Add shallots, garlic, curry paste, lemon grass (if using), herbs and lime juice. Whizz the mixture until quite fine and combined. Add eggs and mix thoroughly, then season well with salt and black pepper, and whizz again. Transfer to a bowl.
In a large heavy-based frying pan, heat a little oil, then scoop up a dessert spoonful of turkey mixture and place in to the pan. Do this in batches and cook for 2 mins on each side until browned, then cook for a further 4-5 mins.
Garnish with coriander and serve with sweet chilli sauce dip.
This page can be found at: http://secretsauce.co.uk/meat-poultry/turkey-recipes/thai-style-turkey-bites/
A short link can also be used: http://bit.ly/dGQuwG
Bernard Matthews Farms

With over 55 years experience in turkeys at Christmas, Bernard Matthews Farms has lot of help to offer this yuletide. Whether it's tips on planning in the run up to Christmas, preparing the main meal itself or figuring out what to do with those turkey leftovers, Bernard Matthews Farms has all the Christmas expertise you need to lend you that 'helping hand'. Download the Merry Little Book of Christmas Dinners (available from Mid-November) for a stress-free, enjoyable Christmas!
More from Bernard Matthews Farms

Turn a roast turkey into another dish so you don't waste your leftovers with this delicious turkey tagliatelle

If you've had a lovely roast turkey, don't waste the leftovers, use them up in this delicious sweet and sour recipe

Put your turkey leftovers to good use with a delicious soup. Serve with warm, crusty fresh brown bread
Popular in turkey recipes

A roast turkey crown for Christmas makes a superb centrepiece to the table and there's little wastage. Devised by celebrity chef Phil Vickery

A traditional Italian meatball and passata dish with a British turkey twist!

If you're having a children's party but still want them to eat something healthy that's not full of additives, then this recipe is perfect as it feeds 25!