Oriental turkey spring rolls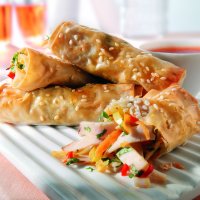 Get out your sweet chilli sauce and add these turkey spring rolls to your party food repertoire!
Makes: 16
Preparation time: 40 mins
Nutritional information:
Typical values /100g /serving
Energy kcal/kJ 200/845 84/501
Protein 7.0 2.9
Carbohydrate 31.6 13.3
Fat 5.1 2.1
Salt 0.8g 0.3g
Sodium 0.3g 0.13g
What you need:
100g Bernard Matthews Farms Golden Norfolk Turkey Breast Slices, cut into strips
1 onion, chopped
1 tbsp oil
3cm fresh ginger, grated
1 red chilli, deseeded and chopped
1 yellow pepper, deseeded and thinly sliced
1 carrot, grated
2 tsp Thai fish sauce
1 tbsp fresh coriander, chopped
270g filo pastry, frozen
Melted butter
1 egg beaten
Optional: sesame seeds and sweet chilli dipping sauce
What you do:
Preheat oven to 200°C/400°F/Gas Mark 6.
Fry the onion in the oil, until softened. Stir in the grated ginger, chopped chilli and yellow pepper and cook for one minute.
Add the carrot and cook gently for about 2 minutes, or until vegetables are soft.
Stir in the Thai fish sauce, turkey strips and coriander. Allow the mixture to cool.
Take 3 sheets of filo pastry and brush each with melted butter. Place sheets together, and using a sharp knife, cut the pastry into 8 equal pieces. Place 2-3 teaspoons of the mixture at one end, fold in 1cm on both sides of the strip, and then roll up like a cigar. Brush with the egg, place on a baking tray and sprinkle with the sesame seeds, if using. Repeat until all the mixture has been used.
Bake in the oven for 5-10 minutes, until golden and crisp. Serve with a sweet chilli dipping sauce.
This page can be found at: http://secretsauce.co.uk/meat-poultry/turkey-recipes/oriental-turkey-spring-rolls/
A short link can also be used: http://bit.ly/gaeIeQ
Bernard Matthews Farms

With over 55 years experience in turkeys at Christmas, Bernard Matthews Farms has lot of help to offer this yuletide. Whether it's tips on planning in the run up to Christmas, preparing the main meal itself or figuring out what to do with those turkey leftovers, Bernard Matthews Farms has all the Christmas expertise you need to lend you that 'helping hand'. Download the Merry Little Book of Christmas Dinners (available from Mid-November) for a stress-free, enjoyable Christmas!
More from Bernard Matthews Farms

Turn a roast turkey into another dish so you don't waste your leftovers with this delicious turkey tagliatelle

If you've had a lovely roast turkey, don't waste the leftovers, use them up in this delicious sweet and sour recipe

Put your turkey leftovers to good use with a delicious soup. Serve with warm, crusty fresh brown bread
Popular in turkey recipes

A roast turkey crown for Christmas makes a superb centrepiece to the table and there's little wastage. Devised by celebrity chef Phil Vickery

A traditional Italian meatball and passata dish with a British turkey twist!

If you're having a children's party but still want them to eat something healthy that's not full of additives, then this recipe is perfect as it feeds 25!