Ribeye steaks with red wine shallots & béarnaise sauce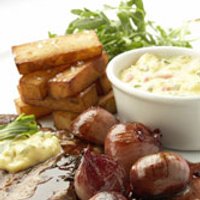 If you want to add an extra kick to your steak, or want to try something a bit different from the usual steak toppings, try this delicious recipe with red wine shallots.
Serves: 4
What you need:
For the red wine shallots:
50g butter
500g shallots
1 tsp sugar
Salt and freshly ground black pepper
2 sprigs thyme
250ml red wine, e.g. Cotes de Rhone
For the béarnaise sauce:
3 tbsp white wine vinegar
A shallot, chopped
6 black peppercorns
2 egg yolks
1 tsp Dijon mustard
150g chilled butter cut into dice
1 handful chopped fresh tarragon
For the ribeye steaks:
4x250g British ribeye steaks
A little cold pressed rapeseed oil and a knob of butter
Sea salt and black pepper
What to do:
Red wine shallots method:
Peel the shallots, trim tops and root ends.
Heat the butter in a heavy saucepan and add the shallots. Cook until lightly golden on all sides, add the sugar, a little salt, pepper and thyme.
Add the wine; reduce again until 2 tablespoons are left. The shallots should be tender by now.
Remove from heat and add another 1/2 tbsp. of butter. Check seasoning before serving.
Béarnaise sauce method:
Put the vinegar, shallots and peppercorns into a small pan with two tablespoons of w ater.
Bring to the boil; simmer until very little liquid is left.
Put the egg yolks and reduced into a heatproof bowl, and sit over a pan of simmering water, the bottom of the bowl should not touch the water. Add the mustard and whisk well. Add the butter, a little at a time, whisking gently.
The sauce will thicken keep whisking until it is creamy and thick. If the mixture looks like it is going to curdle add a little cold water or cream and remove from the heat whisk for one minute then continue.
Ribeye steaks method:
To cook the steaks, heat a frying pan or a griddlepan over a medium heat then add a good dash of rapeseed oil and a knob of butter.
When the butter is foaming add the steaks to the pan and cook on one side for 2-3 minutes for rare or a little longer for medium then turn and cook on the other side for the same time remove from the pan and rest for 2 minutes and serve with the shallots, some thick cut chips and the Béarnaise sauce
This page can be found at: http://secretsauce.co.uk/meat-poultry/steak-recipes/ribeye-steak-shallots/
A short link can also be used: http://bit.ly/edWl1Z
UK shallots
UK shallots are amongst the finest in the world with a uniquely mild, sweet flavour. Used for centuries as an important ingredient in both western and eastern cooking to add flavour, sweetness and piquancy, shallots turn savoury recipes into something really special.
More from UK shallots

Tender sea bass with a sauce of shallots, cream and herbs - perfect for a dinner party or a romantic dinner for two

Tender beef with the spice of chilli and the sweetness from sweet potato creates an exciting stew-type dish bursting with flavour.

Venison may be slightly unusual for a burger, but it tastes as good, if not better than traditional beef. So try something different tonight with this easy recipe.
Popular in steak recipes

A juicy, tender steak with a traditional peppercorn sauce and an added chilli kick, ready in just 10 minutes

To celebrate its 35th birthday this year, Beefeater has released four exclusive and, until now, secret recipes using four of their most popular sauces so you can recreate the ultimate steak eating experience at home

To celebrate its 35th birthday, Beefeater has released four exclusive and, until now, secret recipes using four of their most popular sauces so you can recreate the ultimate steak eating experience at home