Griddled sirloin steak & chip salad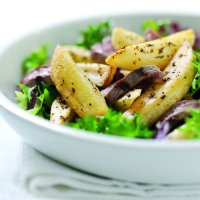 It's time steak and chips had a modern update and we've given this classic gastro dish a healthy twist by tossing the perfect portion of chips with griddled steak strips and salad leaves
Preparation: 10 mins
Cooking: 20 mins
Serves: 2
What you need:
2-3 medium potatoes e.g. Maris Piper
1 tbsp oil
2 x 175g sirloin steaks
130g bag mixed salad leaves
2 tbsp French dressing
½ tsp black and red pepper blend or crushed black peppercorns
What you do:
Preheat the oven to 200o C, Gas mark 6. Cut 2-3 medium peeled potatoes into chips. Place in a medium sandwich bag with 1 tbsp oil and shake well to coat. Transfer to a non-stick baking tray. Bake for 20 minutes until golden.

Meanwhile, brush 2 sirloin steaks with a little oil and griddle or fry for 2-3 minutes each side then set aside.

Mix a 130g bag of mixed salad with 2 tbsp French dressing.

Slice the steaks and mix with the chips and ½ tsp black and red pepper blend or crushed black peppercorns.

Place on top of the salad and serve immediately.
Handy cook's tip:
For an ultra quick turn around, lose the dressing and the pepper mix
This page can be found at: http://secretsauce.co.uk/meat-poultry/steak-recipes/griddled-sirloin-steak-and-chip-salad/
A short link can also be used: http://bit.ly/fWpUBb
National Chip Week 2010
Love Chips
will be celebrating National Chip Week 2010 from 15th - 21st of February.
More from National Chip Week 2010

In the mid 1970s, curry sauce became a popular accompaniment served in fish and chip shops. Why not rediscover its super fruity flavour by making your own at home? It's the perfect partner for warm, comforting chips

Gammon, egg and chips gets a makeover with this delicious honey and mustard topped gammon served with poached egg and satisfyingly chunky wedges. A great pub classic with a modern twist that can be enjoyed in the comfort of your own home

Fish and chips are 150 years old in 2010 so celebrate with cod pieces with pesto, baked with chunky homemade chips, then served with minted mushy peas!
Popular in steak recipes

A juicy, tender steak with a traditional peppercorn sauce and an added chilli kick, ready in just 10 minutes

To celebrate its 35th birthday this year, Beefeater has released four exclusive and, until now, secret recipes using four of their most popular sauces so you can recreate the ultimate steak eating experience at home

To celebrate its 35th birthday, Beefeater has released four exclusive and, until now, secret recipes using four of their most popular sauces so you can recreate the ultimate steak eating experience at home