Chunky chicken, potato & sweetcorn soup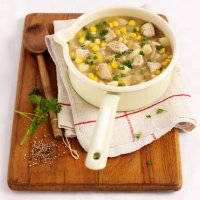 A warming soup to heat up your cockles all year round!
Preparation: 15 mins
Cooking: 25 mins
Serves: 4
What you need:
2 teaspoons vegetable oil
2 skinless chicken breasts, chopped into small chunks
1 onion, finely chopped
1 leek, thinly sliced
250g potatoes, peeled and chopped into small chunks
2 OXO chicken stock cubes
100g canned or frozen sweetcorn
2 tablespoons cornflour, blended with 2 tablespoons cold water
2 tablespoons chopped fresh parsley
Salt and freshly ground black pepper
What you do:
Heat the vegetable oil in a large saucepan, brushing it over the surface. Add the chicken chunks, frying them for 2-3 minutes, until browned.
Add the onion, leek, potatoes and 1 litre (1 3/4 pints) of water to the saucepan. Crumble in the 2 OXO chicken stock cubes and bring up to the boil. Reduce the heat and simmer, partially covered, for 15-20 minutes, or until the potatoes are tender.
Add the sweetcorn and cook gently for 2-3 minutes. Stir the blended cornflour and add it to the soup, stirring until thickened. Add the parsley, season to taste, then ladle into warm bowls and serve at once.
Handy cook's tip:
You could use leftover cooked chicken if you like, adding it to the soup after the potatoes have cooked.
This page can be found at: http://secretsauce.co.uk/meat-poultry/soup-recipes/chunky-chicken-potato-and-sweetcorn-soup/
A short link can also be used: http://bit.ly/hjgfw5
OXO

OXO is the UK's best loved stock brand with an illustrious history spanning over 150 years. Bought by Premier Foods in 2006, it originated in the 1840s as a concentrated extract of meat. In 1900 the product was renamed OXO in Britain and in 1910 the eponymous OXO Cube was born. It has since become a staple in UK kitchen cupboards with over 600 million cubes sold each year. Although the cube remains at the heart of the brand it now produces additional products to make OXO relevant to even more home cooks, such as New Reduced Salt Stock Granules and Concentrated Liquid Stock.
More from OXO

A perfect one-pot dish that can just be left to cook in the oven, making it a convenient mid-week meal

A healthy twist to a favourite family dish
Popular in soup recipes

Sweet potatoes are a great vegetable for soups and this one, with a dash of paprika and garlic, will warm you up in no time

Creamy, delicious, this celeriac soup is really special with garlic toasts to dip right in!

The next time you're having a roast chicken, this soup is the ideal thing for the next day. It's a delicious, warming soup for any time of year