Carrot, chicken & barley soup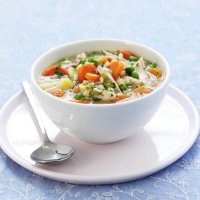 The next time you're having a roast chicken, this soup is the ideal thing for the next day. Use the chicken bones to make delicious fresh chicken stock, the last bits of chicken meat and any leftover vegetables like potatoes or peas - all can be stirred in. Pearl barley thickens the soup and makes it really hearty too. It's a delicious, warming soup for any time of year.
Preparation: 5 mins
Cooking: 30 mins
Serves: 4
Price per portion: 70p (not including Sunday roast leftovers)
Per serving: 271 calories, 7.2g fat, 1.5g saturates, 0.37g salt. Counts as 2 of your 5-a-day
What you need:
15ml/1tbsp vegetable oil
450g/1lb carrots, peeled and sliced
1 leek, cleaned and sliced
1.2lt/2 pt chicken stock (see box)
75g/3oz pearl barley
175g/6oz cooked chicken, broken into bite sized chunks
175g/6oz cooked potatoes, chopped
100g/4oz cooked vegetables such as peas, broccoli, or green beans
What you do:
Heat the oil in a large pan, add the carrots and leeks, then saute over a medium heat for 4 mins. Add the stock, pearl barley, chicken and potatoes and season well.
Bring to the boil, then cover and simmer for 20-25 mins or until the pearl barley and carrots are tender. Stir in the cooked vegetables, return to the boil and simmer for 1 min. Stir in the parsley and season to taste. Ladle into bowls and serve.
To make chicken stock: Pick all the chicken that you can off a chicken carcass and set aside. Place the chicken bones, and skin in a large pan, cover with about 2.4ltr (4pts) water, add a bay leaf if you like, then bring to the boil.
Cover and simmer for 30 mins to extract all the goodness from the bones, then remove the lid and simmer for a further 40mins or so or until the liquid has reduced by half.
Strain to remove the bones then leave to stand for 5 mins. Use a spoon to skim off any excess fat which rises to the surface of the stock. It's now ready to use but can be stored in the fridge for upto 4 days or frozen for upto 6 months.
Cooks Tip: To save time you can always make chicken stock with a stock cube or concentrate.
This page can be found at: http://secretsauce.co.uk/meat-poultry/soup-recipes/carrot-chicken-and-barley-soup/
A short link can also be used: http://bit.ly/eYMAJR
British Carrots

For carrot history, fun facts, recipes and information on buying, storing and preparing carrots, visit British Carrots.
More from British Carrots

Casserole's a classic winter warmer and this one with apple gravy is just delicious and really straightforward to make. Go on, tuck in!

If you're after a healthy, warming soup, then this one's definitely worth making. Get some fresh crusty bread to serve with it and lunch is sorted!

If you've got loads of turkey leftovers, here's a great recipe that will not only use them up, it'll provide you with another delicious meal!
Popular in soup recipes

A warming soup to heat up your cockles all year round!

Sweet potatoes are a great vegetable for soups and this one, with a dash of paprika and garlic, will warm you up in no time

Creamy, delicious, this celeriac soup is really special with garlic toasts to dip right in!