Spicy shepherd's pie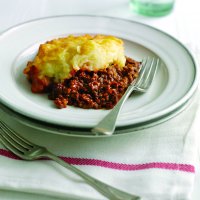 A spicy take on a traditional favourite
Preparation: 25 mins
Cooking: 70 mins
What you need:
500g lamb mince
1 onion, diced
1 large carrot, diced
1 stick celery, diced
2 cloves garlic , crushed
1 chilli, deseeded and finely diced
1 bay leaf
2 tsp ground cumin
1 tsp ground coriander
400ml lamb stock
1 tbs tomato puree
2 tbs Kikkoman Soy Sauce
Black pepper
1 tsp cornflour mixed with cold water
500g maris piper potatoes, par boiled
20g unsalted butter
60ml milk
1 tbs Kikkoman Soy Sauce
100g cheddar cheese, grated
What you do:
Boil the peeled and diced potatoes until softened, mash, then add the butter and warmed milk, season with 1 tbs Kikkoman Soy Sauce and pepper.
In a large pan, fry the diced vegetables along with the garlic and chilli in a little oil for around 10 mins until softened. Add the spices and cook for a couple more mins. Meanwhile in batches brown the mince, add to the vegetables then add the stock and simmer for 10 mins, add 2 tbs Kikkoman Soy Sauce and a grinding of black pepper then add the cornflour mixture and stir until thickened.
Transfer into an ovenproof baking dish and top with the potato mash, texture with a fork then sprinkle over the grated cheese. Place in a preheated oven set at 200c for 30 mins or until browned.
Cook's tip:
Leave out the chilli if you prefer
This page can be found at: http://secretsauce.co.uk/meat-poultry/shepherds-pie-recipe/spicy-shepherds-pie/
A short link can also be used: http://bit.ly/M6Of7e
Kikkoman

Kikkoman's world famous naturally brewed soy sauce is still made to the same traditional recipe created in Japan 300 years ago using just soybeans, wheat, salt and water to bring out the flavour of your dishes.
More from Kikkoman

This scrumptious chilli con carne contains a little dark chocolate to make it rich and deep and flavour, but don't worry, you won't be able to taste it as such

Make something a bit different from your usual chicken stir-fry with sticky sweet honey and garlic to coat the chicken

This is the simplest way to prepare prawns, just follow our recipe and you'll have peppery soy prawns in a flash!
Popular in shepherds pie recipe

If you've been using the same old shepherd's pie recipe for years, why not try this one which has a tasty Mexican twist

Comforting, filling and delicious, shepherd's pie topped with creamy mash should definitely be part of your recipe repertoire