Stuffed mushrooms with scramble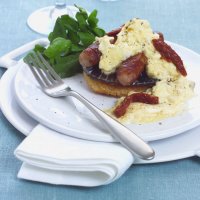 A fabulous breakfast dish or light lunch. Big flat mushrooms are perched on a croûte, topped with delectably browned Porkinson Bangers, and finished with creamy scrambled eggs and sunblush tomatoes
Serves: 4
What you need:
6 x The Porkinson Bangers in either of the four flavours (Original, Oxford, Suffolk Ale & Herb or English Sage & Onion)
2 tbsp oil
4 slices white bread
4 tbsp sunflower oil
4 large flat mushrooms, wiped, stalks removed
8 x eggs
100ml/4fl oz double cream
Water
25g butter
8 strips sundried tomato
Cracked black pepper
Salt and freshly ground black pepper
Watercress for serving
What you do:
Heat the oil in a pan and fry the Porkinson Bangers over medium heat to brown all over and cook through. Remove from the heat and keep warm.
Cut circles from the white bread using a coffee saucer as a template. Fry on both sides in 2 tbsp of oil to brown and crisp. Keep warm. Wipe the mushrooms and fry on both sides in the remaining oil, season with salt and freshly ground black pepper. Keep warm.
Beat the eggs lightly with cream and a splash of water. Season with salt and freshly ground black pepper. Heat the butter in a pan over a low heat and add the egg mixture to the pan. Cook gently, stirring all the time until just about to set - the eggs will carry on cooking after being removed from heat.
Place the croûtes on a plate, top with the mushrooms, then the sausages and finish with the scrambled eggs and a few strips of sunblush tomato. Sprinkle with cracked black pepper and serve with watercress.
This page can be found at: http://secretsauce.co.uk/meat-poultry/sausage-recipes/stuffed-mushrooms-with-scramble/
A short link can also be used: http://bit.ly/fvteKV
Skandi Candle
Pure soy wax candles in Flack Fig & Vetiver or Lemon fragrances - perfect for any dinner party or romantic night in.
The Porkinson Banger
The
Porkinson Banger
uses only quality pork, herbs and spices to create a truly unique banger that's perfect for sharing with friends.
Popular in sausage recipes

This is a classic British dish that's like a giant sausage roll. Serve with greens and mustard for a traditional dinner for two

Cocktail sausages cooked in honey are popular finger food, but wait until you've tried these sweet chilli versions

This is the best breakfast, especially if you've over-indulged a little the night before, but don't save it until then, it's great for dinner too!