Chicken madras curry with sour cream & chive dip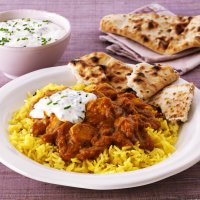 If you fancy a curry that isn't full of bad-for-you flavourings and colourings, try this homemade madras curry recipe!
Prep: 5 mins
Cooking: 40 mins
Serves: 4
Per serving:
Energy (kcal) 539
Fat (g) 34.5
of which saturates (g) 20.1
Total sugars (g) 6.6
Salt (g) 1.64
This recipe provides over a third GDA of iron
What you need:
1tbsp vegetable oil
450g/1lb chicken fillet, skinned and cubed
1 onion, chopped
45ml/3tbsp Madras curry paste
75g/3oz split red lentils
300ml/1/2pt chicken stock
1 (400g) can chopped tomatoes
50g/2oz creamed coconut, chopped
1 (200g) pot of fresh sour cream and chive dip
pilau rice and naan bread to serve
What you do:
Heat the oil in a large frying pan or wok, add the chicken and onions and sauté over a medium heat for 10 mins until both are golden. Add the curry paste and stir for 30 seconds.
Stir in the lentils, stock, tomatoes and coconut. Cover and simmer for 25-30 mins or until the sauce has thickened and the lentils are tender. Season to taste and serve with the sour cream and chive dip spooned over.
This page can be found at: http://secretsauce.co.uk/meat-poultry/indian-recipes/chicken-madras-curry-with-sour-cream-and-chive-dip/
A short link can also be used: http://bit.ly/emHyZH
Fresh dips
Bakkavor Foods is a leading producer of supermarket own-label dips.
More from Fresh dips

Spice up a simple tomato soup recipe with chilli and paprika, then serve with a dollop of sour cream and chive dip and warm crusty bread

It's always a struggle getting your five a day but this recipe counts as 2 portions per serving. Don't forget the houmous and mint dip as a delicious side dish

This is a cheats' recipe for a classic Spanish tapas dish. Potatoes topped with spicy tomato and chilli sauce, the name literally means fierce potatoes
Popular in indian recipes

This recipe is a wonderful starter or snack and taste great with homemade dips. It can easily be made for vegetarians by substituting the lamb with mashed potatoes.

One of the world's most popular Indian dishes is chicken korma, famous for its mild and creamy taste - replace the chicken with prawns if you wish

A mouth-watering lamb burger, which is simply bursting with flavour and perfect for cooking on the barbecue or for a warming winter meal