Gammon with tropical salsa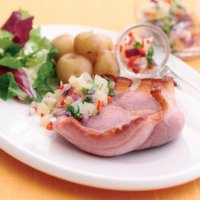 A traditional British dish made really special with a deliciously fruity tropical flavour
Preparation time: 10 minutes
Cooking time: 8 minutes
Calories per portion: 357 Kcal
Fat per portion: 17g, of which saturated 6.1g
Serves: 2
What you need:
Gammon steaks 2 thick, about 200g (7oz each) each
Vegetable oil for brushing
Clear honey 2 tsp
For the salsa:
Pineapple chunks in pineapple juice 227g can, drained
Red onion 1 small, peeled and finely diced
Small chilli 1, deseeded and finely chopped, optional
Clear honey 1 tbsp
Lime juice 2-3 tsp
Chopped coriander 2 tbsp
New potatoes and salad to serve, optional
What you do:
Preheat the grill to hot. Snipe the rind on the gammon steaks in 8-10 paces. Brush the steaks lightly with oil and put them under the grill for 3 minutes, turn them and cook for another 3 minutes. Then turn them again and smooth the honey over the top and cook for 1 minute more. Put the meat on two plates and keep them warm.
While the meat is cooking, make the salsa. Dice the pineapple chunks and mix them with the red onion, chilli, if using, honey, the lime juice and coriander. Serve in a small bowl or straight on the gammon steaks together with new potatoes and a mixed salad.
Handy cook's tip
If you don't have a lime, use 1 teaspoon of soy sauce instead of the lime juice. It will give a stronger, less zesty flavour.
Handy shopper's tip
Canned pineapple is a useful store cupboard item for adding freshness to savoury dishes. Drink the juice.
This page can be found at: http://secretsauce.co.uk/meat-poultry/gammon-recipe/gammon-with-tropical-salsa/
A short link can also be used: http://bit.ly/hh9aIX
Dairy Diary

The new Clever Cooking for One or Two cookbook is priced at £9.50 (plus £2P&P). To order a copy or for further information call 0845 0948 128, speak to your local milkman or visit Dairy Diary
More from Dairy Diary

This is a classic British dish that's like a giant sausage roll. Serve with greens and mustard for a traditional dinner for two

While you're getting this together, why not double up on the ingredients and freeze a lovely chicken and leek pie for another time?

When it comes to cakes, very little beats a moist, soft, light, fruity muffin and these raspberry versions are no exception
Popular in gammon recipe

You'll love this recipe! The creaminess of the coleslaw goes perfectly with the salty gammon and sweet pineapple.

Gammon, egg and chips gets a makeover with this delicious honey and mustard topped gammon served with poached egg and satisfyingly chunky wedges. A great pub classic with a modern twist that can be enjoyed in the comfort of your own home