Royal roasted stuffed chicken breast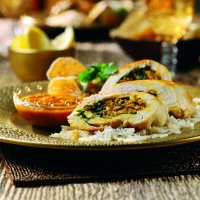 This has a lot of ingredients, but just imagine the incredible flavour when you've put it all together! An unusual and delicious dish
Serves: 4
What you need:
4 tbsp vegetable oil
100g (3½ oz) red onion, chopped
150g (5oz) onions, sliced
1 tsp fresh ginger root, chopped
6 garlic cloves, crushed
1½ tsp green chilli, chopped
4 tbsp Patak's Tikka Masala Paste
700g (1lb 9oz) chopped tomatoes
50g (2oz) unsalted butter
5 saffron strands
100g (3½oz) cashew nuts, roasted and finely crushed
4 chicken breast
75g (3oz) pistachio nuts, coarsely ground
300g (11oz) paneer, grated
100g (3½ oz) baby spinach leaves, washed
¼ tsp black pepper
2 tbsp honey
60ml (2½ fl oz) single cream
Salt, to taste
What you do:
Firstly, prepare the sauce. In a pan heat 2 tbsp of oil and add the onions, ½ tsp ginger, garlic and 1 tsp green chillies. Sauté for 5 minutes and add 2 tbsp Patak's Tikka Masala Paste. Cook for a further few minutes, adding a little water if the mixture begins to stick.
Add the tomatoes and butter and allow to cook on a medium heat for 10 minutes. Add the saffron strands and roasted crushed cashew nuts and let it simmer for half an hour.
Keep the chicken breast flat on the cutting board; slit it horizontally halfway through across the breast to open it as flat as possible and use a steak hammer to flatten. Keep it aside.
In a pan heat 1 tbsp of oil and add the red onions. Cook for 3 - 4 minutes before stirring in 2 tbsp of Patak's Tikka Masala Paste. Cook for 3 more minutes and remove from the heat. Allow to cool slightly before mixing the remaining ginger and green chilli, pistachio nuts, paneer, spinach and black pepper. Stuff the inside of the chicken breast by placing some mixture in the middle of one half of the breast. Wrap the other half of the breast over and make sure no filling is leaking out.
Sear the stuffed chicken breast in a hot pan with 1 tbsp oil, ensuring all sides of the breast have started to brown. Roast in a preheated oven at 180°C/350°F/Gas Mark 4 for 15 - 20 minutes.
Once the sauce has cooked through, strain it through a sieve and blend to a smooth consistency. Place back on the heat for 10 minutes before pouring in the honey and cream. Check the seasoning and adjust the salt.
Check the chicken is cooked through before removing from the oven and serve drizzled with sauce.
This page can be found at: http://secretsauce.co.uk/meat-poultry/chicken-recipes/royal-roasted-stuffed-chicken-breast/
A short link can also be used: http://bit.ly/fDPrKG
Patak's

Patak's - Be inspired by over 150 Indian recipes to help you create authentic, delicious meals at home.
More from Patak's

An Indian meal wouldn't be complete without the traditional onion bhajis and they take just 25 minutes to prepare and cook

This recipe is a wonderful starter or snack and taste great with homemade dips. It can easily be made for vegetarians by substituting the lamb with mashed potatoes.

Share these colourful, tasty dips and salsas with friends - perfect for eating al fresco
Popular in chicken recipes

For a quick and easy evening meal, chicken, leek and Cheddar bake, with melt in the mouth cheese, will be a firm family favourite that takes just 10 minutes to prepare

While you're getting this together, why not double up on the ingredients and freeze a lovely chicken and leek pie for another time?

Easy to prepare, these chicken dippers are perfect handed round at parties!