Mexican lasagne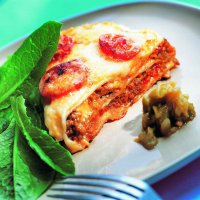 This is a great alternative to a family favourite. Using the Two Step Chilli Sauce, season the meat first with the blend of herbs and spices in the cap to really develop the flavours before adding the sauce. Using wheat or corn flour tortillas instead of the normal lasagne sheets just adds to the fun.
What you need:
1 tbsp oil
350g minced beef
1 jar Discovery 2-Step Chilli con Carne
1 pack Discovery Flour Tortillas
1 x 350g tub fresh cheese sauce or homemade
50g grated cheese
To serve:
What you do:
Make the Discovery 2-Step Chilli according to instructions.
Layer the Discovery Tortillas and Chilli in a large ovenproof dish, cutting the Tortillas to fit the dish if necessary.
Finish the layers with a Tortilla, then pour over the cheese sauce and sprinkle with cheese.
Cook at 200°C/400°F for 45 minutes or until bubbling and golden. Serve with a green salad.
This page can be found at: http://secretsauce.co.uk/meat-poultry/beef-recipes/mexican-lasagne/
A short link can also be used: http://bit.ly/hbx1v9
Discovery Foods

Discovery Foods sells authentic-tasting Mexican, Latino and North American foods, including sauces, tortillas, seasonings, accompaniments and dinner kits. Stock up on Discovery Wrapbreads, choose low-fat, healthy fillings and kick off the New Year with a fresh start. Discovery Wrapbreads are available in the bakery section of selected Sainsbury's and Waitrose stores priced at RRP £1.49. If you like it in a sandwich… you'll love it in a wrap.
More from Discovery Foods

Throw a Mexican party just so you can share out these lovely cheesy quesadillas with a spicy chorizo kick

This quick and easy recipe has been designed to create minimum fuss, maximum convenience. Cook the chicken first for 3 minutes and then add the vegetables before wrapping in a soft tortilla. All in one - it couldn't be easier!

A delicious and healthy alternative to the boring sandwich
Popular in beef recipes

Beef stew is the best winter warmer, slow cooked for two hours to make sure the beef is tender and has absorbed all the delicious flavours

This easy-to-make tasty meal is really healthy - helping you towards your 5-a-day. Make it with beef mince, or choose Quorn mince if you're vegetarian.

Tender beef with the spice of chilli and the sweetness from sweet potato creates an exciting stew-type dish bursting with flavour.