Swordfish madras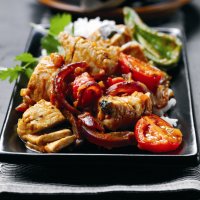 Absolutely fabulous sauce for people who like it hot! Try swapping the swordfish for any other strong fish, such as tuna, or chicken if you prefer. You can increase the heat by adding extra green chillies.
Serves: 4
What you need:
1 ½ tbsp vegetable oil
1 tsp fine chopped ginger
1 green chilli, slit lengthwise
10 curry leaves, fresh or dried
2 medium red onions, thinly sliced
200g swordfish diced into 2cm cubes
200ml Seeds of Change Madras sauce
100ml warm water
100g baby plum tomatoes, cut into halves
1 tbsp fine chopped coriander leaves
What you do:
Heat oil, sauté ginger, chilli and curry leaves for 1 minute.
Add sliced onions and sauté until translucent, then add the diced swordfish and sauté for 2 minutes.
Pour in the Madras sauce and water and let it simmer until the fish is cooked.
Stir in baby plum tomatoes and chopped coriander just before serving.
Serve with bread or rice.
This page can be found at: http://secretsauce.co.uk/fish-seafood/swordfish-recipes/swordfish-madras/
A short link can also be used: http://bit.ly/gSYDF4
Seeds of Change

Seeds of Change's aim is to provide a range of good, honest food, full of taste and flavour that is also good for you. The range of delicious sauces, soups, pasta and cereal bars is organic and free of artificial additives and preservatives.
More from Seeds of Change

Creamy, delicious and filling - an easy and satisfying meal for the family

This is a great one-pot dish. Look out for good quality meat in your supermarket

This delicious rhubarb crumble recipe was created by gardener and celebrity Kim Wilde