Swedish smörgås with potato salad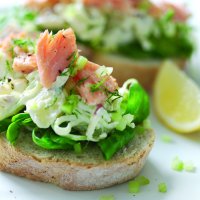 Who better to trust for an excellent smoked salmon recipe than the Swedish?

Preparation: 10 mins
Cooking: 12 mins
Serves: 4
What you need:
For the potato salad:
500g potatoes, 1cm diced
50g mayonnaise
50g crème fraîche
25ml double cream
½ tbsp chopped dill
1 eating apple, grated
½ leek, finely sliced
For the Swedish Smörgås:
Salad leaves
8 slices buttered crusty bread
2 x Hot Smoked Salmon fillets, flaked
2 tbsp finely chopped celery
What you do:
Boil the potatoes for 10-12 minutes or until tender, drain and allow to cool.
Meanwhile, mix together the mayonnaise, crème fraîche, cream and dill.
Mix the potatoes with the apple and leek and stir in the mayonnaise mixture, stir well to coat and season to taste.
Place a little salad on each of the bread slices, top with some potato salad. Place smoked salmon on top and sprinkle over the chopped celery and a little chopped dill to garnish.
Serve with extra potato salad.
This page can be found at: http://secretsauce.co.uk/fish-seafood/salmon-recipes/swedish-smorgas-with-potato-salad/
A short link can also be used: http://bit.ly/fVglVQ
Distinctly Scandinavia

Distinctly Scandinavia are a company working towards forging exciting partnerships with quality producers in Scandinavia to bring you pure, simple, healthy food that is rich in natural flavour and distinctly Scandinavian.
More from Distinctly Scandinavia

Need inspiration for cooking with smoked salmon? Or want to make a more exciting pasta dish for a quick dinner? This hot smoked salmon pasta dish is delicious and ready in just 15 minutes

Make a smoked salmon dish extra special with this luxury caviar sauce that's sure to impress any guest
Popular in salmon recipes

Lemon perfectly complements salmon so you might just have found your perfect tart recipe!

A fantastic flavour pairing by top London chef Theodore Kyriakou who says: 'I like eating the salmon pink in the middle with some rice pilaf.'

You need just three main ingredients for this easy family dish - salmon, pastry and onions