Barbecued herring with fresh fruit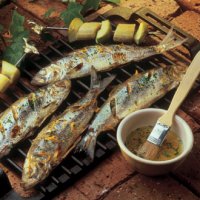 Herring in a fruity marinade is a great alternative to burgers when you're having a barbecue and better for you too!
Serves: 4
What you need:
4 herring, cleaned
2 bananas
2 apples
Lemon juice
Marinade:
Grated rind and juice of 2 oranges
4 x 15ml spoon (4 tablespoons) olive oil
Salt and black pepper
1 x 15ml spoon (1 tablespoon) fresh chopped parsley
What you do:
Pre-heat the barbecue
Cut three slits in each side of the herring. Lay the fish in a shallow dish.
Mix together the marinade ingredients and pour over the fish. Cover and leave to marinate in the refrigerator for approximately 30 minutes.
Meanwhile, slice the bananas and apples into chunks, sprinkle with lemon juice and thread alternately onto skewers.
Place the fish on the barbecue and cook for 8-10 minutes, turning if necessary, baste with the excess marinade.
Cook the fruit skewers for five minutes until just golden, basting with the marinade, if necessary.
Serve the herring with the fruit skewers.
This page can be found at: http://secretsauce.co.uk/fish-seafood/herring-recipes/barbecued-herring-with-fresh-fruit/
A short link can also be used: http://bit.ly/dFOsOA
Seafish
From sea to plate, Seafish delivers expert knowledge, skills and support which help the UK seafood industry secure a sustainable and profitable future. To request a free 'Fish for Thought' guide with tips on buying, storing and cooking fish for the family, email info@efamol.com
More from Seafish

If you're having a barbecue and are looking for something new and exciting to cook, this herring dish is well worth a try

Prawn or lobster, a bisque is always a delicious treat. Creamy, fishy, and warming, just make sure you've got some fresh crusty bread ready to serve

Feed the family healthy fish South American style with this great mackerel dish
Popular in herring recipes

If you're having a barbecue and are looking for something new and exciting to cook, this herring dish is well worth a try

Ready in just 20 minutes, the flavours of this fish are beautifully enhanced with the fennel and coriander

You could swap the herring for mackerel or sardines in this recipe, depending on what you've got handy and it couldn't be easier to make